2013 | OriginalPaper | Buchkapitel
International Meteorological Satellite Systems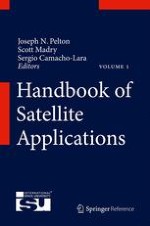 Erstes Kapitel lesen
Autoren: Dr. Sergio Camacho-Lara, Dr. Scott Madry, Dr. Joseph N. Pelton
Verlag: Springer New York
Abstract
The oldest and most extensive meteorological satellite systems are those of the United States and of Europe, as operated by the Eumetsat system. These are addressed in detail in the preceding two chapters. This chapter describes the meteorological satellite systems of China, India, Japan, Russia, and South Korea. These meteorological satellite systems are extensive and provide a number of sophisticated meteorological satellite sensing capabilities both from geostationary and polar orbiting satellite systems. Today all of these various satellite systems – those of China, Europe, India, Japan, Russia, South Korea, and the United States are in various manners linked together and share data. This international coordination of meteorological data is accomplished through the World Weather Watch (WWW) program of the World Meteorological Organization and the Coordination Group for Meteorological Satellites (CGMS).
These international cooperative efforts – supplemented by bilateral or regional agreements – allow a degree of standardization with regard to the formatting and display of meteorological data and a systematic process for sharing of vital weather data. This sharing of meteorological data is important on an ongoing basis – but this can be particularly important – when there is a failure of a meteorological satellite, a launch failure, or a delay in the deployment of a replacement satellite. In some cases, countries such as the United States have even "loaned" meteorological satellites to other countries when failures or launch delays have created gaps in critical coverage areas.
The various international satellites around the world that are deployed in different orbital locations and with varying periodicity provide a very useful redundancy of coverage that is particularly important in tracking major storms and obtaining the most up-to-date information of atmospheric, oceanic, and of arctic conditions.
This chapter provides a description of the meteorological satellite systems of China, India, Japan, South Korea, and Russia and their current status. Researchers can also consult the various universal reference locations (i.e., URLs) for these various meteorological satellite systems which can be useful in obtaining the more recent information about the deployment and operation of these systems.