2013 | OriginalPaper | Buchkapitel
22. International Space Station Modal Correlation Analysis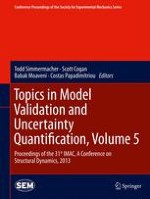 Erstes Kapitel lesen
Autoren: Kristin Fitzpatrick, Michael Grygier, Michael Laible, Sujatha Sugavanam
Verlag: Springer New York
Abstract
Modal analyses, model validations and correlations are performed for the different configurations of the International Space Station (ISS). Three Dedicated Thruster Firings (DTF) tests were conducted during ISS Stage ULF4; this paper will focus on the analysis and results of the DTF S4-1A, which occurred on October 11, 2010. The objective of this analysis is to validate and correlate analytical models used to verify the ISS critical interface dynamic loads.
During the S4-1A Dedicated Thruster Firing test, on-orbit dynamic measurements were collected using four main ISS instrumentation systems along with a Russian high rate sensor; Internal Wireless Instrumentation System (IWIS), External Wireless Instrumentation System (EWIS), Structural Dynamic Measurement System (SDMS), Space Acceleration Measurement System (SAMS) and Internal Measurement Unit (IMU). ISS external cameras also recorded the movement of one of the main solar array tips, array 1A.
Modal analyses were performed on the measured data to extract modal parameters including frequency, damping, and mode shape information. Correlation and comparisons between test and analytical frequencies and mode shapes were performed to assess the accuracy of the analytical models for the configuration under consideration. Based on the frequency comparisons, the accuracy of the mathematical model is assessed and model refinement recommendations are given.