11.06.2013 | THE ECOINVENT DATABASE V3 | Ausgabe 9/2016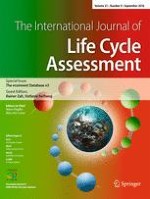 Interoperability between ecoinvent ver. 3 and US LCI database: a case study
Zeitschrift:
Autoren:

Sangwon Suh, Matthew Leighton, Shivira Tomar, Christine Chen
Wichtige Hinweise
Responsible editor: Rainer Zah
Abstract
Purpose
Building a global Life Cycle Inventory (LCI) database from scratch with a harmonized method and wide process coverage would require significant resources. Therefore, it is worth examining to what extent existing LCI datasets can be adapted to form the basis of a more common database. This study examines the opportunities and challenges of transforming the existing US Life Cycle Inventory (US LCI) database to meet the intrinsic (e.g., assumptions, methods, completeness) and extrinsic (e.g., data format) requirements of ecoinvent 3.
Methods
Nineteen US LCI datasets were selected for transformation. Datasets were first converted in batch from EcoSpold 1 to EcoSpold 2 format using an automated tool based on a Python script. Other changes necessary to conform to ecoinvent standards were made manually, such as changing activity and flow names, mapping dummy exchanges, and creating global reference datasets. To address data gaps and other data quality issues, each dataset was assessed against ecoinvent 3 data quality guidelines and missing information was noted. When available, public reports for the US LCI datasets were examined to fill in data gaps. Datasets were also compared against similar processes in ecoinvent to see if there were any significant flows omitted; missing flows were filled by using estimates for these exchanges from similar processes already within ecoinvent.
Results and discussion
The automated tool for data exchange format conversion saved time and reduced the potential for error. Even so, a nontrivial amount of time and research was spent on the manual changes needed to conform to ecoinvent standards. Addressing data gaps and other data quality issues also required considerable effort. In general, US LCI datasets were missing the following data required by ecoinvent 3: land use, water, and infrastructure exchanges; production volumes; uncertainty and data quality information; and adequate documentation of system boundaries, methodology, and process technology. Much of this missing data could be filled by examining available reports, using ecoinvent data as proxies, or conducting independent research. However, in some cases, such as for water data, adequate estimates could not be determined based on readily available materials.
Conclusions
This case study showed that it is possible to incorporate existing regional datasets into ecoinvent version 3, but significant resources may be required to restructure the datasets and fill data gaps. While this study focused on the US LCI and ecoinvent databases, its lessons can be applied to any inter-database conversion. In particular, new national LCI database initiatives should consider compatibility with established databases such as ecoinvent when designing the database framework, standards and guidelines.