01.06.2008 | Communication | Ausgabe 6/2008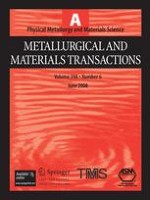 Interpenetrating Hybrid Reinforcement in Al2O3 Short Fiber Preforms Infiltrated by Al-Si Alloys
Zeitschrift:
Autoren:

Fernando Lasagni, Jorge Antonio Acuña, Hans Peter Degischer
Wichtige Hinweise
Manuscript submitted September 16, 2007.
Abstract
In this work, the effect of the Si content and its morphological features on the mechanical properties of different short fiber-reinforced Al-Si matrices is studied. Al-Si alloys with Si contents of 7 wt pct and more contain a percolating Si network in the as-cast condition. The addition of alumina fibers into these Al-Si matrices increases the mechanical properties by forming an interconnected Al
2
O
3
-Si network. Both elastic modulus and maximum strength (from tensile and compression tests) increase with increasing Si content, which reinforces the interpenetration. However, Si diffuses toward the fibers' surface during solution treatment forming coarse Si particles, reducing considerably the connectivity of the Al
2
O
3
-Si-hybrid network and thus the mechanical properties of the composites. The mechanical properties of the Al
2
O
3
-Si network itself are studied by means of compression tests on extracted hybrid reinforcement samples and are related to the global behavior of the composites. The strength
vs
true strain curves depict a strain-controlled softening of the composite material, which proceeds the faster, the higher the interconnectivity of the hybrid reinforcement, due to the propagation of damage of the Al
2
O
3
-Si network.