2018 | OriginalPaper | Buchkapitel
Interrogating Colonialism:
Bakassi

, the Colonial Question and the Imperative of Exorcising the Ghost of Eurocentric International Law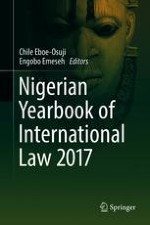 Erstes Kapitel lesen
Autor: Dakas C. J. Dakas
Abstract
On 10 October 2002, the International Court of Justice at The Hague delivered judgement in the contentious case between Cameroon and Nigeria (Equatorial Guinea intervening) to the effect,
inter alia
, that 'sovereignty over the Bakassi Peninsula lies with the Republic of Cameroon'. The Court further decided that 'the Federal Republic of Nigeria is under an obligation expeditiously and without condition to withdraw its administration and its military and police forces from the territories which fall within the sovereignty of the Republic of Cameroon'.
On the face of it, this was simply an interstate territorial dispute involving two African States. This article argues, however, that in the circumstances of the case, colonialism was on trial. Properly analysed, and within the broad framework of colonial responsibility, at the heart of the case is British responsibility to the people of Bakassi and, by extension, Nigeria. Regrettably, the majority of the Court evaded this central issue and chose, instead, to engage in a spurious analysis whose end result was the transformation of a regime engendered by a treaty that, by its very provisions, established a protectorate into a colony or a so-called colonial protectorate! In the circumstances, the article underscores the imperative of critical legal scholarship that interrogates the colonial enterprise, with a view to purging international law of its colonial vestiges.