01.07.2015 | Methodologies and Application | Ausgabe 7/2015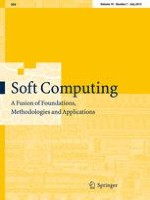 Interval-valued intuitionistic fuzzy multi-criteria group decision making based on cross entropy and 2-additive measures
Zeitschrift:
Autoren:

Fanyong Meng, Xiaohong Chen
Wichtige Hinweise
This work was supported by the Funds for Creative Research Groups of China (No. 71221061), the Projects of Major International Cooperation NSFC (No. 71210003), the National Natural Science Foundation of China (Nos. 71201089, 71201110, 27127117 and 71271029), the Natural Science Foundation Youth Project of Shandong Province, China (ZR2012GQ005), the Specialized Research Fund for the Doctoral Program of Higher Education (No. 20111101110036), and the Program for New Century Excellent Talents in University of China (No. NCET-12-0541).
Abstract
The purpose of this study is to develop an approach to interval-valued intuitionistic fuzzy multi-criteria group decision making with incomplete weight information and interactive conditions. Based on the given cross entropy of interval-valued intuitionistic fuzzy sets and the Shapley function with respect to 2-additive measures, models for the optimal fuzzy measures on an expert set and on an criteria set are established, respectively. If there are no interactive characteristics, then we get models for the optimal additive weight vectors. To get the comprehensive criteria values of the alternatives, two aggregation operators based on the Shapley function with respect to 2-additive measures are defined. Since the experts' knowledge, skills and experiences are different, the weights of the experts are determined with respect to each criterion. Finally, a practical decision-making problem under interval-valued intuitionistic fuzzy environment is selected to illustrate the effectiveness of the proposed procedure.