Erschienen in: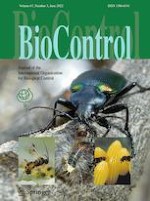 21.03.2022 | Forum Paper
Intraguild predation does not necessarily have negative effects on pest biological control: insights from a multiple consumer-multiple resource food web population model
Erschienen in: BioControl | Ausgabe 3/2022
Einloggen, um Zugang zu erhalten
Abstract
We develop a food web population dynamic model based on an experimental pest biocontrol setup consisting of thrips and aphids (pests) being consumed by two agents
Macrolophus pygmaeus
Rambur (Hemiptera: Miridae) and
Orius laevigatus
(Fieber) (Hemiptera: Anthocoridae), and with
O. laevigatus
being an intraguild predator of
M. pygmaeus
. By means of numerical simulations, we show that pest biocontrol disruption can be avoided depending on initial population densities of pests and agents, despite the intraguild predation (IGP) of
O. laevigatus
upon
M. pygmaeus
. This possible avoidance of pest biocontrol disruption is in accordance with the referred experimental setup. Moreover, the proposed model corroborates the importance of initial densities of pests and control agents in the determination of the failure or success of pest biocontrol found in this and other biocontrol experimental setups.