01.12.2009 | Ausgabe 4/2009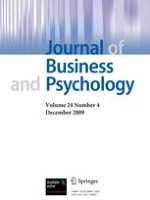 Intraperson Consistency in Financial Risk Tolerance Assessment: Temporal Stability, Relationship to Total Score, and Effect on Criterion-related Validity
Zeitschrift:
Autoren:

Michael J. Roszkowski, Michael M. Delaney, David M. Cordell
Wichtige Hinweise
Received and reviewed by former editor, George Neuman.
This research was done while Michael Delaney was affiliated with The American College, but Michael Delaney is now retired.
Abstract
Purpose
In assessing financial risk tolerance it is common practice to compute an overall score but not the intraperson variability across test items (because the latter is believed to be just error variance). We analyzed (1) the stability of intraperson variability, (2) its correlation to the total score, (3) its moderating effect on validity coefficients, and (4) its relation to internal consistency reliability and test–retest reliability.
Design/Methodology/Approach
Using a standardized measure of financial risk tolerance, we computed (a) sum scores and (b) the average deviation from the person's average score. The sample consisted of 386 financial advisors (1 administration), 458 of their clients (1 administration), and 30 married couples (2 administrations).
Findings
Intraperson consistency was stable over 45 days (
r
= .72), but greater variability was associated with higher risk tolerance scores (
r
= .34–.60). After dichotomization, validity coefficients were only slightly better for the more consistent individuals relative to their less consistent counterparts, but their Cronbach's alpha was higher. Surprisingly, the two groups did not differ on test–retest reliability.
Implications
Intraperson variability is not mere error variance, but it does not provide information entirely independent of the total score. The difference in Cronbach's alpha demonstrates that this index is a function of the "traitedness" of the sample on which it is calculated and not just the quality of the assessment device itself.
Originality/Value
The results suggest some value for the including a measure of intraperson variability on scales assessing financial risk tolerance. Moreover, we show a limitation of Cronbach'a alpha.