30.03.2017 | Original Article | Ausgabe 11/2017 Open Access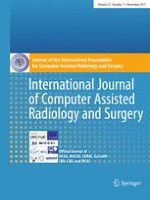 Intravascular endoscopy improvement through narrow-band imaging
Autoren:

Axel Boese, Akhil Karthasseril Sivankutty, Alfredo Illanes, Michael Friebe
Abstract
Purpose
Recent advances in endoscopy have led to new technologies with significant optical imaging improvements. Since its development a few years ago, narrow-band imaging (NBI) has already been proved useful in detecting malignant lesions and carcinoma in clinical settings of urology, gastroenterology and ENT. The potential of this technology for imaging applications of the arterial vessel wall has not been properly analysed yet, but with the observed benefits could prove valuable for this clinical use as well.
Methods
In order to assess the efficacy of NBI, defects such as burns and mechanical tears were created on the walls of an arterial vessel sample. Ex vivo imaging using NBI and white light imaging (WLI) were performed with rigid and flexible fibre endoscopes.
Results
A thorough comparison of the images proved that NBI enhances the visualisation of lesions and defects on the artery walls compared to normal WLI.
Conclusion
WLI provides a direct image of the vessel lumen and its anatomical shape. It is suitable for observation and documentation of intravascular therapies. NBI images are more distinct and have more contrast. This helps to detect even small defects or changes on the inner vessel wall that could provide additional information and lead to more precise and personalised therapies.