20.03.2017 | Ausgabe 6/2017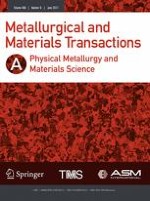 Intrinsic Properties and Structure of AB2 Laves Phase ZrW2
Zeitschrift:
Autoren:

Junyan Wu, Bo Zhang, Yongzhong Zhan
Wichtige Hinweise
Manuscript submitted December 5, 2016.
Abstract
Using the first-principle calculations along with the quasi-harmonic Debye model, we explore the structural, thermodynamic, mechanical, and electronic properties of ZrW
2
intermetallic considering temperature or pressure effect. The computed equilibrium lattice parameter here is highly consistent with previous available results. The obtained formation enthalpy reveals that the ZrW
2
is structurally stable in the pressure range of 0 to 100 GPa. The pressure and temperature dependences of
V
/
V
0
ratio, constant volume specific heat capacity, thermal expansion coefficient, and Debye temperature of ZrW
2
have been obtained. The calculated minimum thermal conductivity
k
min
of ZrW
2
is fairly small and shows anisotropy, which implies that ZrW
2
has promising thermal-insulating application in engineering and may be competent for the thermal barrier materials. Moreover, from the results of elastic properties, we found the ZrW
2
is mechanically stable and exhibits elastic anisotropy and the extent of elastic anisotropy increases with pressure. Additionally, ZrW
2
shows ductile nature and its mechanical moduli all enhance as pressure increases, which is further confirmed by the findings from the electronic properties.