2017 | OriginalPaper | Buchkapitel
1. Introducing a Layered Global Player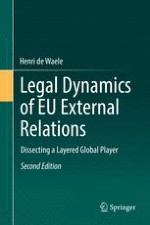 Autor: Henri de Waele
Verlag: Springer Berlin Heidelberg
Jetzt einloggen
Abstract
This chapter enables readers to familiarise themselves with the layered structure of the European Union, its presence and activities on the global scene and the legal underpinnings thereof. After a short introduction (Sect. 1.1), the sub-sections discuss, successively, the particular characteristics of the various layers (Sect.
1.2
), the division of competences and the attendant interrelation between the EU and the Member States (Sect.
1.3
), the Union's international legal personality (Sect.
1.4
), EU treaty-making (Sect.
1.5
) and the system of judicial review (Sect.
1.6
). Once the essence of these general features is well understood, the ground will be prepared for an in-depth study of the dynamics of the 'outer', 'middle' and 'inner' layers that contain its different external policies, and are explored further in parts I, II and III of this book.