2011 | OriginalPaper | Buchkapitel
Introducing Microchannels into Chondrocyte-Seeded Agarose Hydrogels Influences Matrix Accumulation in Response to Dynamic Compression and TGF-β3 Stimulation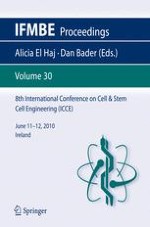 Erstes Kapitel lesen
Autoren: T. Mesallati, C. T. Buckley, T. Nagel, D. J. Kelly
Verlag: Springer Berlin Heidelberg
Tissue engineering technologies combining cells with scaffolds are promising strategies for cartilage repair. A recurring problem with scaffold-based therapies is the formation of superior peripheral tissue, resulting in an inhomogeneous tissue construct. Nutrient transfer limitations to the centre of the construct are believed to be responsible for the phenomena. The introductions of channels into a scaffold or hydrogel, or using mechanical loading to improve nutrient transfer, are two potential approaches to overcome this limitation. If both approaches are combined, the mechanical environment within dynamically compressed hydrogels will be modified by the introduction of microchannels into the construct. The objective of this study was to investigate how chondrocytes will respond to this altered mechanical environment.
Isolated porcine chondrocytes were suspended in 2% agarose. Microchanneled and solid construct cylinders (Ø 6 x 4 mm) were fabricated and maintained in supplemented media containing TGF-β3 (10
η
g/ml). Loaded solid and channeled constructs were subjected to a compressive strain amplitude of 10%, for 2 hours/day, 5 days/week, for a duration of 6 weeks.
In the presence of TGF-β3, dynamic compressive loading in solid constructs resulted in an increase in sulphated glycosaminoglycan (sGAG) accumulation. There was a trend towards greater sGAG synthesis in microchanneled constructs; however sGAG accumulation was lower in these groups. While the introduction of microchannels alone may not result in the development of engineered tissue suitable for implantation, it does represent a unique model to investigate chondrocyte mechanobiology.