Erschienen in: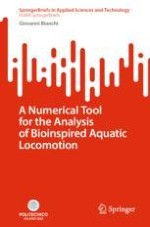 2023 | OriginalPaper | Buchkapitel
1. Introduction and State of the Art
Abstract
Autonomous Underwater Vehicles (AUVs) are increasing in popularity because they can explore the ocean's depths and perform operations without risking human life, and their applications range from search and rescue to scientific research and military operations. However, despite recent progress, AUVs still have worse swimming capabilities than fishes. The locomotion strategies of fishes have achieved outstanding swimming performances because they have evolved through natural selection for millions of years, so investigating how fishes propel themselves is of great interest to exploit the same mechanism for AUV propulsion. An effective bioinspired design cannot be carried out by blindly copying all the characteristics of fish locomotion, but it should be based on a deep understanding of the underlying physical principles that make fish swim so efficiently. Fish swimming is a complex phenomenon involving the unsteady fluid dynamics of a deformable moving body immersed in water, and advanced numerical tools are needed to figure out the mechanism of fish propulsion. In this chapter, the most popular numerical methods used to analyze fish swimming are described, and the main novel aspects of the proposed technique based on an overset grid are introduced.