Erschienen in: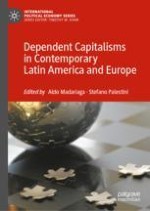 2021 | OriginalPaper | Buchkapitel
1. Introduction: Dependency as a Research Program: From Situations to Mechanisms of Dependency
Abstract
This theoretical introduction presents the core assumptions of the dependency research program (DRP), the main classic works in this tradition, and its differences. It also defines the two main concepts that cross through the entire volume: "situations" and "mechanisms" of dependency. Situations of dependency refer to concrete empirical manifestations of dependent capitalism (e.g. dependency within the EU; dependency within China–Latin America relations). Mechanisms of dependency refer to the specific causal mechanisms through which dependency comes about. Finally, the introduction provides an overview of the different chapters.