2019 | OriginalPaper | Buchkapitel
1. Introduction: How Does Migration Take Place?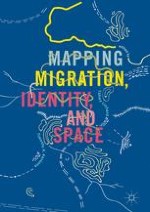 Autoren: Tabea Linhard, Timothy H. Parsons
Abstract
Migration, identity, and space are entangled and mutually influential. The question "How does migration take place" not only demands an examination of the causes, consequences, and depictions of migration in different parts of the world and different moments in history, it also calls attention to the crucial role that space and place have in such an examination. The approaches and methodologies in this collection differ with regard to the questions these ask and the evidence they use to substantiate their claims. Yet in spite of these differences, a number of shared themes emerge. While differentiating voluntary migration from forced migration is important, what makes these very diverse experiences comparable is the undeniable relationship with the physical and imaginary space that they traverse and eventually occupy.