2015 | OriginalPaper | Buchkapitel
1. Introduction: New Opportunities for Development?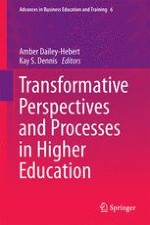 Autoren: Amber Dailey-Hebert, Kay S. Dennis
Abstract
What might our future look like if higher education focused on the needs of humankind and the enablers for meeting those needs? How might our reality change if we
embraced
the complexity and uncertainty surrounding us and
leveraged
them to the advantage of the learner (and society as a whole)? We begin this chapter with questions that have helped to shape a growing conversation on the need for higher education to shift dramatically from its traditional paradigm. It has been said that higher education is broken, that we have fallen behind the emerging trends of our time. It has also been said that higher education is the indispensible cornerstone of culture and society. We assert that revolutions in education have already occurred worldwide and will continue to shape the face of learning as we know it. As lines blur across all forms of learning – be it informal, formal, traditional, professional, networked or otherwise – shifts in our perspectives and understanding are necessary to accompany such change. This chapter outlines concepts for consideration as we challenge ourselves to participate in innovating the future of learning.