1998 | OriginalPaper | Buchkapitel
Introduction Part Five: Participation, Environment and Development: The Developing Countries' Setting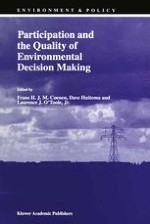 Erstes Kapitel lesen
Autoren: Frans H. J. M. Coenen, Dave Huitema, Laurence J. O'Toole Jr.
Verlag: Springer Netherlands
Enthalten in: Professional Book Archive
The previous parts of this book dealt with participation in environmental decision-making processes in industrialised countries. The advanced nature of many of the participatory experiences in the earlier chapters reflects the more or less stable, democratic structures in which participatory (learning) processes in industrialised countries are taking place. The following three chapters deal with participation in a rather different setting. Participation in environmental decision-making is analysed in the context of developing countries, where structures are generally less stable and of a less democratic nature in than industrialised countries and where participation in environmental decision-making is often in an initial stage. In three contributions the relationship between participation, environment and development is explored, with each chapter referring to cases from a specific continent: Latin America, Asia and Africa.