Erschienen in: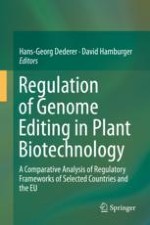 2019 | OriginalPaper | Buchkapitel
1. Introduction: Regulation of Plants Derived from Genome Editing—What Lessons To Be Learned from Other Countries?
Abstract
The advent of genome editing in plant breeding and the resulting blurring of the boundaries between natural and artificially induced genetic modifications present regulators worldwide with new challenges. In such a time of regulatory uncertainty, or dispute over how to regulate genome edited plants, legislators are well advised to seek external guidance on how this issue could be addressed appropriately. Since genome edited organisms pose similar challenges to regulatory systems around the world, it seems sensible to study the practices of other jurisdictions in order to draw lessons for one's own regulatory efforts. To be able to choose from a diverse selection of regulatory approaches, countries with differing attitudes towards genetically modified plants were chosen as research objects. Broadly speaking the studied jurisdictions can be divided into those which embrace the cultivation of GMOs (Argentina, Canada and the USA), those which are reluctant adopters of GMOs (Australia and Europe) and a de facto absolute abstainer from GM crop cultivation (Japan). Based on a comparative analysis of the regulatory frameworks and an identification of possible best practices, the conclusion is made that a consistent regulatory regime should be product-based, i.e. the risk regulation should be triggered by a plant's traits. From a procedural point of view, an obligatory upstream procedure should be used for channelling the respective plant into the relevant regulatory framework. This process can be further catalysed by a voluntary early consultation procedure. Within such a framework the one-door-one-key principle should apply, which means that all relevant authorizations are granted upon a single application.