Erschienen in: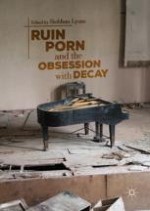 2018 | OriginalPaper | Buchkapitel
1. Introduction: Ruin Porn, Capitalism, and the Anthropocene
Abstract
This chapter introduces the topic of ruin porn, and the many issues and ambiguities that surround it; I discuss the fascination that society has with decay, and its place in cultural, historical, philosophical and economic discussions. As an aesthetic movement, ruin porn provokes much criticism as an exploitative notion that turns personal loss and decay into artistic work. But ruin porn is also a useful way in which to critique the relationship between humanity and its future. This chapter also examines the connections between ruin porn, capitalism, and the Anthropocene, arguing that the phenomenon of ruin porn potentially signals the demise of capitalism while challenging the anthropocentric discourse that defines contemporary academic discussions.