2017 | OriginalPaper | Buchkapitel
Introduction: Supply Chain Integration Challenges in the Commercial Aviation Industry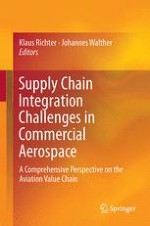 Autoren: Klaus Richter, Nils Witt
Abstract
Airlines, aircraft OEMs and their suppliers were affected by numerous changes in the commercial aviation sector over the last decades.
Since the 1970s, airlines have seen a significant increase in air traffic and seat mile cost pressure due to regulatory changes, shift of traffic towards developing countries, especially Asia, and emergence of new business models such as Low Cost Carriers.
On the OEM and supplier side, the business focus changed from defence to civil and the manufacturing base went through a phase of consolidation. Furthermore, increased demand for new aircraft and cost pressure from the airlines triggered a transition from job shop production to small series production.
This development fostered associated changes in aircraft technology such as enhanced cabin space efficiency and new engine technology. It requires a supply chain that is able to cope with the challenges of airline specific customization, while delivering into a serial production process. Cost pressure and competition from emerging countries have led to a shift in the manufacturing base, while the assembly processes have seen the adaptation of automotive concepts such as Lean Production. Additionally, the aftermarket today offers new business opportunities and will potentially benefit from revolutionary concepts in the near future due to increased use of digitalization technology.