2019 | OriginalPaper | Buchkapitel
1. Introduction to Engineered Cementitious Composites (ECC)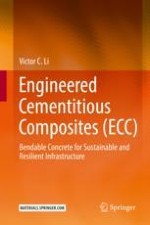 Autor: Victor C. Li
Verlag: Springer Berlin Heidelberg
Abstract
This chapter provides a broad introduction to Engineered Cementitious Composites (ECC). It describes the historical development of concrete material and the motivation behind the development of ECC. Specifically, the need for further concrete material development for enhancing infrastructure resilience, durability, sustainability, and smartness is discussed. These desirable infrastructure characteristics serve as the backdrop for much of the research and development behind ECC over the last decades.
The chapter offers a brief overview of the unique features of ECC in comparison to normal concrete and other high performance concretes. It emphasizes the distinguishing and valued high tensile ductility of ECC, even though ECC with high compressive strength has also been achieved.
This introduction chapter also describes the concept of Integrated Structures and Materials Design (ISMD) for infrastructure and environmental performance. The need for such integration and its feasibility offered by ECC is reviewed. ISMD serves as a natural framework for scale linkage from nano-scale to infrastructure and environmental scale.