2021 | OriginalPaper | Buchkapitel Open Access
1. Introduction to Recent Advances in Quality Assessment for Adhesive Bonding Technology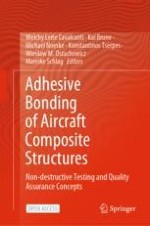 Autoren: Michael Noeske, Welchy Leite Cavalcanti, Hauke Brüning, Bernd Mayer, Antonios Stamopoulos, Apostolos Chamos, Thomas Krousarlis, Paweł H. Malinowski, Wiesław M. Ostachowicz, Konstantinos Tserpes, Kai Brune, Romain Ecault
1.1

Introduction

Adhesive bonding was already being applied more than 35,000 years ago in the Upper Palaeolithic in the Near East using naturally occurring bitumen [

1

] as well as in Europe during the contemporaneous last Ice Age [

2

] and starting from the Middle Palaeolithic to the Iron Age using wood or birch-bark tar [

3

,

4

]. Adhesive joints based on biomaterials are also known from the Swabian Aurignacian [

5

] in the Upper Palaeolithic. For example, hollowed-out adherends consisting of flint and split animal bones or mammoth teeth were re-joined and re-sealed using an airtight resin glue (an organic mastic that was possibly birch tar obtained using fire [

6

]) to manufacture a single piece of work that contributed to the social cohesion inside fire-heated caves inhibited by modern humans or even Neanderthals. These joints created musical instruments, highlights of humanity's cultural repertoire, and their product quality was tested by the musicians and their audience. As early as the Neolithic, inorganic sandwich composite adhesives consisting of fillers and binders were used to manufacture poly-layered joints as ornamental artefacts [

7

]. In the Taklamakan Desert in north-western China, early evidence of adhesives and their development around 3500 years ago was recently collected in the form of a bone sculpture-inlaid wooden artefact [

8

]. The development of adhesives and bonding applications was further advanced in ancient Greece and the Roman Empire [

9

]. In fact, throughout human history, adhesives have been among the most widely applied materials [

8

] and their use was one of the earliest known transformative technologies [

10

], yet many of these historical advances have only recently been revealed through archaeological excavations and investigations.

In Europe, the modern era was initiated by the re-discovery of Greek and Roman cultural and knowledge heritage, triggering the three Industrial Revolutions, which facilitated machine-driven mass customisation and computer-driven digital data processing. The fourth Industrial Revolution is currently ongoing, encompassing exchangeable decentralised datasets and individualised information available anytime and anywhere and joining the biological, physical, and digital fields to form cyber-physical systems. The advent of Industry 4.0 is updated music to the audience's ears—be it students or professionals, engineers or natural scientists, and it will connect more than seven billion humans worldwide. Such extensive communication will be based on documenting and preserving, sharing and high-speed exchanging trackable digital data or even knowledge, a development that is entering site-comprehensive production chains step by step. This advancement also challenges modern adhesive bonding for the series production of multifunctional materials for the simple reason that quality assessment and quality management in production technologies are not based on archaeological methods or tools. Nonetheless, we suggest that making relevant material-based aspects accessible is a crucial endeavour, both in archaeology and in forward-looking production technologies, and that this perspective will spawn the analysis of augmentable domain-specific data sources that are virtually unbounded in both cases.

We consider modern tools for quality assessment in adhesive bonding technology worth the readers' attention, and we present recent progress in the research, development and application of process-integrated monitoring technologies for joining composite structures. We systematically introduce our readers to extended non-destructive testing (ENDT) and provide a compendium for quality or process engineers throughout their professional lives as well as for students as an application-oriented introduction to the interdisciplinary topics at hand, comprising physico-chemical, material and process engineering aspects.

In this section, we give a short introduction to ENDT and quality assessment in adhesive bonding processes relevant to the manufacture or repair of composite structures.

Why are these topics so highly relevant at present? Fundamentally, we share expectations that in the twenty-first century, progress in joining functional or lightweight materials and components will essentially be driven by innovations based on adhesive bonding technology and by developments that will enable manufacturers to safeguard the quality and optimise production [

11

‐

13

], integrating these three drivers into a factory-of-the-future approach for composite manufacture, e.g. in the aerospace or automotive industries [

14

‐

16

]. With the aim of achieving cost efficiency and increased flexibility with many degrees of freedom [

17

,

18

], computer-integrated manufacturing will be established for all process steps, including those related to adhesive bonding. In this way, the increasing market demand for new and highly customised products with high quality [

19

] will be met and a small time-to-market delay will be achieved. In view of challenges like shorter response opportunities and flexibility in a turbulent and unpredictable market environment while preserving product quality [

19

], knowledge capturing and processing profiting from formal methods, e.g. taxonomies and ontologies [

20

], are gaining importance and may greatly contribute to rule-driven manufacturing control [

21

]. In addition to the software and information technology infrastructure presently being developed, hardware that facilitates the gathering of precise in-process data from all process steps will be needed as a third pillar [

18

,

22

,

23

] within less than a decade. These intelligent hardware elements of machines and devices such as sensors and actuators contribute to the "field-level" base of the industrial automation pyramid [

19

,

24

], which highlights the numerous components and pathways of industrial communications, as sketched in Fig.

1.1

. Within an automation pyramid, the upper levels are characterised by a deeper understanding and a higher responsibility for the performance of the complete overall system. The deeper levels within the hierarchy are distinguished by increasingly detailed knowledge about individual processes and process steps or technologies. In matters of smart manufacturing knowledge management, the basic data form the foundation for the higher levels, which are targeted towards manufacturing information, scientific understanding (e.g. providing predictive models), and knowledge [

25

]. In the future, for some systems, e.g. for monitoring bonded repair of composite aircraft structures, highest level standalone and autonomous opportunities appear accomplishable from a scientific point of view [

26

].
×
Bearing these expectations and challenges, but also the self-limiting frame of this book, in mind, we will introduce one comprehensive concept, ten pathbreaking heuristic principles, and more than a dozen tools which are accessible for interoperability and facilitate implementing and operating a quality assessment (QA) system. These form a profound base for quality assurance within a superordinate and nevertheless interlinked quality management system. We expect that sensing systems comprising ENDT tools and concepts [
27
,
28
] as well as sensors and sensor concepts [
18
] will thus provide a solid foundation both for this approach following Industry 4.0 and for quality assessment as a technical pre-requisite for quality assurance.
1.2

Technological and Regulatory Framework

In this section, we will introduce a succinct description of adhesive bonding processes and render some aspects of quality assurance and monitoring before describing the ongoing advancement of quality assessment with a focus on adhesive bonding processes. After detailing ten heuristic principles for quality assessment, we will integrate methods and tools for ENDT. Finally, we will present a concept for ENDT and quality assessment in adhesive bonding, which will then be further elaborated in the subsequent chapters of this book.
1.3

Recent Joint Research for Advancing QA in Adhesive Bonding

In the following subsections of the present chapter, we will introduce the reader to the framework of the joint research project "Quality assurance concepts for adhesive bonding of aircraft composite structures by advanced NDT" (ComBoNDT) [

28

] and address its characteristics as well as the beating heart of this project, namely our consortium. This project received funding from the European Union's Horizon 2020 research and innovation programme under grant agreement No. 636494 and our consortium was active from 01-05-2015 to 30-04-2018 to achieve substantial progress beyond the starting position described in the previous chapter. The present book is based on the advances for quality assessment in adhesive bonding technology which were achieved over the course of the EU Framework Programme for Research and Innovation aspiring for smart, green and integrated transport. Briefly, the input and the output provided by the ComBoNDT project is essential but not confining for this book, and all authors of this book contributed to this project.

Subsequently, we will detail the overall concept, the goals pursued in this book, the step-by-step planning towards the achievement of the goals, the strategies followed as well as the intended impact according to the project workflow.
1.3.1

Objectives and Rationale

The context in which we were working had previously been defined by the key performance indicators (KPI) of the European aeronautics industry as defined by Flight Path 2050 "Maintaining and extending industrial leadership" [

65

]. Among these KPI, "process time reduction 80%, cost reduction 70%, and competitiveness of products produced in Europe compared with those produced in low labor cost countries" were the key factors inspiring the activities performed early in the second decade of the third millennium. To this end, we aimed at the development of ENDT tools for CFRP, adherend surfaces and bonded CFRP joints that could potentially cope with the technological problem in two ways:
Safety improvement and cost reduction for building this kind of structure due to more reliable and longer lasting adhesively bonded joints

Augmentation of the competitiveness of the European aeronautics industry by adopting such lightweight structures and joints, which may lead to a further cost reduction and greener air transport
More precisely, even though there is a strong need to exploit the potentials of lightweight CFRP structures in the aeronautic industry alongside the application of adhesively bonded joints, their adequacy for primary aircraft structures remains low. Despite the advances made in this sector as well as previous attempts, the shortcomings observed were caused mainly by the absence of adequate quality assurance processes. The corresponding requirements concerning the quality assurance of the manufacturing process of load-critical CFRP structures are particularly high, as potential failures could directly affect the overall safety of an aircraft.
Considering the above-mentioned aspects, the implementation of reliable adhesive bonding processes through advanced quality assurance would lead to the increased development of highly integrated structures with an optimum combination of advanced composite materials, which would, in turn, minimise the use of the rivet-based assembly. Consequently, metallic assembly concepts would potentially be surpassed through a redesigning of the structures. The benefits of such a procedure can be crucial, especially in the field of weight saving, which may be expected to amount up to 15% in the case of the fuselage airframe. This could have further positive effects on the size and weight of other aircraft parts, such as the engines or the landing gear, causing in parallel a reduction in both the fuel consumption per passenger-kilometre and the operating aircraft costs. Furthermore, a significant reduction in greenhouse gas emissions (CO 2) would contribute to the mitigation of climate change and further improve the environmental performance of the transportation sector.
The already established quality assurance processes for adhesively bonded CFRP non-critical load structures are based on measurements using methods suitable for the detection of potential defects (pores, debonds, delaminations) in the joint area. However, using such conventional NDT methods does not facilitate a detection of any further defects of interest, such as kissing bonds, nor does it assess the weakening of a geometrically intact bondline. Thus, the development of quality assurance processes which, on the one hand, provide a correlation to the physico-chemical properties of the probed adherends and adhesives and, on the other hand, could make the adhesion properties of bonded components accessible had to be spurred. This goal also met the EASA (European Aviation Safety Agency) certification requirements for structural bonding [
66
]. Our research and development (R&D) in ENDT techniques aimed at establishing reproducible and reliable non-destructive inspection tools in order to ensure the manufacture of joint structures that reliably feature the required strength.
In a nutshell, our overall objective was to develop a quality assurance concept for the adhesive bonding of load-critical CFRP primary aircraft structures, which could be applicable within the whole life cycle of the aircraft to overcome the current limitations regarding the certification of composites. Therefore, we established a detailed approach regarding in-line ENDT for CFRP materials at an increased technological readiness level (TRL), both in-process and post-process.
Applying ENDT technologies, we aimed to overcome the limitations of conventional NDT methods and allow the reliable assessment of the surface state of CFRP adherends as well as the quality of the final adhesive joint. We focused on the implementation of previously developed ENDT techniques, their assessment and, potentially, the increment of their TRL. The integration of these techniques into future adhesive bonding process chains, quality assurance concepts and material testing for maintenance processes could pave the way for the safe and reliable integration of lightweight structures into aircraft design. Applying the bonding of complex lightweight structures and the replacement of the traditional riveting method may overcome the use of CFRP as a "black metal".
Among the most important topics to which the book aims to contribute is the establishment and strengthening of the production and material testing processes at all stages of an aircraft's lifecycle using the previously mentioned quality assurance concepts. A fast and precise detection of surface contaminations and defects like kissing bonds in bondlines could help save time (up to 70% time savings using ENDT) during production, maintenance, overhaul, repair and retrofit. This way, aircraft parts could be checked for contaminants without disassembly or time-consuming steps. Also, parts of the aircraft could be replaced or fixed when necessary, resulting in up to 50% higher cost efficiency for ground operations. All of the above will significantly contribute to the competitiveness of the European aircraft sector.
The advancement of highly promising ENDT technologies was necessarily tested and demonstrated exemplarily in the frame of two fields of application, namely aircraft manufacture and in-service bonded repair. These fields of application determine the requirements in terms of the detection capabilities (e.g. of unknown contamination), applicability and robustness (i.e. TRL) that need to be met by the ENDT technologies. The maturity of the techniques will also involve approaches concerning automation and industrialisation, which means that aspects like the mobility of the measurement setup, objective and unambiguous data evaluation and interpretation were also addressed. In more detail, among the main objectives for our research and development was the incrementation of the current maturity level (TRL 3–4) to a TRL of 5–6. The aim of an increased TRL was addressed both as a measurable project result and a ground-breaking step towards the implementation of the developed ENDT techniques in real application scenarios.
The improvement of material testing during manufacturing as well as ground operations (overhaul, maintenance) will allow the automation of processes that are currently performed manually. The resulting time savings (in combination with more reliable results) should also be utilised to obtain measurable results by comparing the state-of-the-art process with the newly developed techniques. An important step was therefore the determination and improvement of the performance of ENDT in terms of the speed of inspection and data evaluation (aim: 10 min/m 2 of the inspection area at three to five times faster than the current state of the art).
In summary, a successful R&D process would enable
The reliable and reproducible detection of unknown and potentially multiple contaminations on adherend surfaces;

The reliable and reproducible detection of poor bond quality in bonded adhesive joints;

A robustness of methods and a suitability for field measurements in aircraft manufacturing and repair environments in terms of detection limits and measuring speed;

ENDT technique(s) which are validated in the relevant environments (TRL 5–6).
1.3.2

Concept and Approaches

Regarding the overall concept, the aircraft manufacturers within our project consortium provided the other partners with their demands and targets, aiming at the successful exploitation of the research activities. The sketch displayed in Fig.

1.9

summarises our overall conception of this book and its chapters:
×
We greatly benefited from the outcome of the EU FP7 project "Extended nondestructive testing of composite bonds—ENCOMB" [
27
], the results of which were detailed in the previous chapter. Launched back in 2010, ENCOMB involved a screening of potentially suitable techniques for the characterisation of CFRP adherend surfaces and adhesive bonds, whereby over 20 different non-destructive technologies were tested. Several contaminations or defects (e.g. a silicone-based release agent, hydraulic fluid, moisture, thermal degradation or poorly cured adhesive) were introduced to adhesively bonded CFRP joints in order to adapt the measuring techniques in such a way that the different contaminants and the resulting effects on the bond quality could be detected down to relevant threshold values (e.g. related to surface concentrations). Additionally, relationships were established between the degree of the pre-bond contamination and the observed degradation and the mechanical performance of the resulting adhesive joint. We briefly recall here that substantial progress was made with regard to providing the basis for an integrated approach to the quality assurance of adhesive bonding processes. Against this background, when planning the activities reported in this book, it was of strategic importance that the R&D work reported here technically and methodically enhances the most promising quality assurance concepts identified within the ENCOMB project and advances them to a TRL of 5–6.
Moreover, we aimed at additionally exploiting the knowledge gained from a series of further aeronautics and NMP projects while interacting with ongoing projects in the field that were in a parallel state of progress, e.g. CleanSky [
67
] and BOPACS [
68
]. To accelerate the further development of ENDT technologies for integration into future adhesive bonding process chains as well as allow the assessment of surface quality before bonding and the quality of the finished adhesive joint, the work within the ComBoNDT project was performed alongside test scenarios extracted from the fields of application of manufacturing and repair. Besides their relevance for manufacturing and repair, the outlined test scenarios represented as yet unanswered scientific questions, such as the effect of adherend surface contaminations on the adhesion properties, the overall bonded joint performance and the joint durability. To achieve these goals, we addressed an increase in the degree of automation in connection with a high reproducibility and an adequate measurement speed, an increase in the detection capabilities and the sensitivity of the techniques, a decrease in the costs and an adequate simplicity of handling, in particular with regard to quantifiable results.
Considering all of the above, the ENDT methods identified for further maturation in the frame of the R&D work reported here were carefully selected with respect to their suitability for the corresponding research approach. The techniques used in the project already existed in the form of laboratory setups, and their applicability was previously tested in the frameworks of other research projects. As summarised for our readers in Table
1.1
, feasibility studies were demonstrated in the early phase at the beginning of this decade. To serve the book's scope, as addressed in Sect.
1.3.1
Objectives and Rationale, the selected techniques to be maturated were selected because they had previously demonstrated great applicability and effectiveness. Up to the starting point of our recent R&D work, the ENDT techniques tested met the basic requirements of a TRL up to 3 or 4. In some previously conducted projects, feasibility and accuracy were tested for some techniques, which also demonstrated capabilities of detecting and quantifying contamination and indicating failure scenarios of CFRP relevant to aeronautics (ENCOMB, ABiTAS). Among these methods, only the most promising and reliable were chosen for further investigation and improvement. Considering the objectives of this book, their accomplishment was in selecting the most promising techniques developed in previous research, as described above. Hence, the ambitious technical goal of the ComBoNDT project was to transfer the selected technologies from their current TRL state to a higher level (5 or 6). We addressed this goal through activities performed in different fields:
Table 1.1
Survey of national and international research and innovation activities connected to the ComBoNDT project
| Research and innovation acronym and status | Main topics | Relation to ComBoNDT |
| --- | --- | --- |
| | Characterisation of adherend surfaces with conventional NDT with the aim of developing a robust, flexible and economic process chain for structural assembly by adhesive bonding. Surfaces after pretreatment were screened, tested and optimised | The results of in-process surface quality control of composite surfaces with the aim of achieving an increased TRL level were applied for ComBoNDT |
| | Screening of more than 20 different technologies suitable for the characterisation of adherend surfaces and adhesive bonds, also those with a low TRL (1–2). Distinct contamination and degradation scenarios were introduced to the samples to test the eligibility and versatility of the techniques | Much of the knowledge from ENCOMB regarding suitable, highly promising NDT for the development of ENDT was transferred to ComBoNDT. The ENCOMB project finished in April 2014, so the full benefit of its results provided a foundation for ComBoNDT |
| | The influence of composite surface properties on bond durability in repair applications was studied. The pre-bond inspection of surfaces was a task in this context | The studies within ComBoNDT went beyond the work carried out in CleanSky, especially concerning the characterisation of adhesives and the testing of adhesive bonds by ENDT |
| | The aim of BOPACS was the weight reduction of primary aircraft structures by developing boltless adhesively bonded joints. The focus lay on the understanding of crack growth and debonding expansion mechanisms in adhesive joints with an aim of developing specific design features capable of preventing crack growth | Some partners from BOPACS were also members of the ComBoNDT consortium (Fraunhofer IFAM, Airbus Group, LTSM University of Patras). Thus, it was ensured that the findings within BOPACS were implemented in ComBoNDT |
The first step included the

test scenarios

for the project's scope as well as the sample preparation and overview of the sample measurements as previously defined by both the industrial end users and the ground operation service providers.

The second step included the

sample preparation

, which complied with the requirements defined by the industrial partners.

The next step was the

characterisation of pre-bond and post-bond quality

by reference methods using lab-based analytical methods. (The second and present steps were of paramount importance as a high quality of samples was imperative to ensure reproducibility and comparability because the results of the ENDT technologies would be compared to the results of the lab methods).

The next step included the conduction of

mechanical tests

to address the influence of contaminants on the bond strength using both established and innovative mechanical tests in samples with different levels of intentionally applied contaminants and, thus, different influences on the bond strength.

After the completion of the mechanical tests, the next step concerned

ENDT for the quality assessment of adherend surfaces

(pre-bond inspection). The performance of the ENDT technologies was adapted and optimised regarding their sensitivity to detect the physico-chemical properties of adherend surfaces with multiple pre-bond contaminations as well as their suitability in quantifying the measuring results. This work included the further development of the technologies with regard to sensitivity, reliability, automation and mobility, the performance evaluation within real manufacturing or repair processes, and approaches for industrialisation. Another activity was performed in parallel which dealt with

ENDT for adhesive bondline quality assurance

(post-bond inspection). Within this activity, the evaluation and development of appropriate technologies with high sensitivity formed the primary interest in order to determine the bondline quality influenced by multiple pre-bond contaminations as well as to quantify the results. The sensibility, reliability, automation and mobility of the techniques were assessed by their implementation in real manufacturing or repair processes.

A further step was the

demonstration

of the adapted and improved ENDT techniques in real application environments for both manufacturing and repair in order to reveal their suitability for future use in aeronautical industry applications.

Another step was the

validation and technological assessment of ENDT

methods and investigations. In this part, the work was aimed specifically at the comparative evaluation of the produced innovations regarding their suitability for measurements in production or in-service environments through an assessment of their TRL (including simplicity of handling, time for data processing, detection capability, costs, lifetime, etc.), in-line capability, mobility and robustness. This activity also included probability of detection (POD) studies to evaluate the detection performance of each technique. In the frame of validation of the techniques of the project, a round-robin test was used.

Finally, the broad

dissemination and exploitation

of the results, in parallel to the protection and safeguarding of the intellectual property rights of the partners involved in the project, was ensured, as the reader may infer from the present book.

On the way to all these achievements, the overall

project management

was dedicated to all activities, ensuring efficient project coordination towards achieving the project's objectives.
Following the conceptualisation and throughout the course of our R&D work, distinct levels of pre-bond contamination, the influence of which was addressed via mechanical testing, needed to be previously detected and preferably discriminated by the ENDT techniques and quantitative evaluation of the quality-related data. From a manufacturing perspective, in the production scenarios, a contamination of adherend surfaces with, e.g. release agent and moisture was considered to be highly relevant. A variation due to the impact of moisture, hydraulic fluids such as Skydrol
©
, kerosene or de-icing fluid may also occur during aircraft operation. Therefore, corresponding exposures were taken into consideration for the repair test scenarios. These scenarios with contaminations, relevant for the respective field of application from manufacturing and repair, were applied to samples with increasing geometric complexity to mimic technologically relevant situations, as displayed in Table
1.2
.
Table 1.2
Approaches pursued within this book, characterised by different types of test scenarios addressing the fields of application for in-plant manufacturing and in-service repair based on adhesive bonding
Sample geometry and surface state

Fields of applications investigated

ENDT for pre-bond (a) and post-bond (b) quality assurance for

manufacturing

ENDT for pre-bond (a) and post-bond (b) quality assurance for

repair

• Test coupons (flat surface)

• Multiple contaminants

• Pilot samples (complex geometry)

• Multiple contaminants

moisture contamination

release agent contamination

Skydrol© contamination

adhesive bondline
1.3.3

Aims and Key Aspects

The exploitation of lightweight CFRP materials for further use in aeronautic applications presupposes adhesive bonding as a very appropriate joining technology for load-critical primary structures [

62

] and the compliance with the appropriate certification (e.g. by the European Aviation Safety Agency, EASA). Due to the absence of an adequate quality assurance concept which can guarantee the safety of adhesively bonded joints and enable a corresponding certification, the previously mentioned exploitation was not possible. Such a quality assurance concept for adherend surfaces and the contacting bondline is crucial for load-critical bonds and must be effective. However, quality assessment exclusively involving the already existing NDT testing methods is not considered sufficiently reliable [

70

]. As the major part (80–90%) of any inspection is performed visually, it is very important for advances in quality inspection that the technologically relevant effects of deviations from qualified procedures, e.g. damage, which are not accessible to human sensory perception can be sensitively detected and revealed in-process. Taking this proposition into account, a number of research projects targeted addressing and developing innovative NDT technologies in laboratory environments. These trendsetting technologies should be able to monitor the adherend surfaces and bonded joints and assess their quality-relevant features which may be affected by surface contaminations or manifest in kissing bonds. To this end, the effect of single contaminants was assessed for simple sample geometries. Nevertheless, these NDT techniques had not been tested in scenarios of multiple contaminations or on realistic three-dimensional and complex geometries.

In the frame of this book, we will highlight these tests comprising tools and procedures for in-process quality assessment using pilot samples charged with multiple contaminants; moreover, the techniques' operation and their application are demonstrated on real manufacturing and repair components. The aim is to prove their suitability and reliability for surface and bondline quality detection and compilation. This work is performed with the ultimate goal of the certification of CFRPs as the primary material in critical structural applications. Another issue is the maturation of innovative NDT methods in terms of the TRL, considering the fact that these basically had only been tested in a laboratory environment. To this end, our R&D work aimed not only at the increment of their TRL but also at building up a catalogue of criteria for an assessment of ENDT techniques applicable to adherend surfaces and bondlines of load-critical CFRP structures. In addition, within the developed concept of assessing technologically relevant quality-related features, mechanical tests of the resulting bonded joints were highlighted as necessary in order to determine the influence of contaminants up to a contamination level that shows a risk. Considering that the existing standardised methods entail a high cost and work effort, focused destructive tests providing selected specific bond strength parameters and statistics were performed. Despite this issue, the mechanical tests chosen and performed were those that appeared to be the most time and work-efficient, in addition to the most innovative ones (i.e. the centrifuge test).

More precisely, when evaluating the influence of the intentionally varied adherend surface state (clean, single or multiple contaminations) on the mechanical properties, established standardised mechanical tests like mode-I, mode-II and mixed-mode fracture toughness tests are widely used. These tests are time- and cost-consuming due to complex sample preparation, destructive single-sample testing and manual evaluation of the mechanical load and of the two obtained fracture surfaces. These limitations for standardised testing have been recognised in many previous research projects such as ENCOMB and ABiTAS. Although these significant standardised mechanical tests were knowingly chosen to be performed in the frame of our R&D work, we additionally used a new multiple sample test (centrifuge-testing) because it was ascribed great potential to overcome the limitations of standardised tests within the BOPACS project. With this novel centrifuge test, up to eight samples can be measured within five minutes. The measured mechanical properties have previously shown accuracy with a very good precision and reproducibility. The novel testing is cost-efficient, fast and reliable, and it indeed increased the information value of mechanical testing compared to the results from standardised mechanical tests.

TRLs are commonly used to evaluate the maturity of technologies (e.g. NDT techniques, pre-treatments) regarding their degree of development and applicability in industrial processes. There are several definitions of TRLs, e.g. from the EC for H2020, from the U.S. Department of Defense, NASA and ESA; however, these definitions are more general without including specific criteria for special applications. With regard to the fields of application addressed within this book (i.e. manufacturing and repair), different criteria are relevant for TRL assessment.

Establishing a satisfactory catalogue of criteria for the assessment of TRL for pre- and post-bond ENDT technologies to be used in the fields of manufacturing and repair for CFRP primary structures is a major challenge that will be elaborately assessed in this book, especially by our co-authors from industrial consortium partners experienced in manufacturing and ground services. They worked on the creation of a catalogue of requirements tailored specifically for the TRL assessment for ENDT in the chosen fields of application. With this catalogue, a distinct determination of TRL will be possible for the specific fields of application investigated within this book. With a distinct and comprehensive TRL assessment, the comparability of the test methods and the TRL improvements achieved within the project were measurable and became very clear. TRL assessment was performed according to this catalogue at the beginning (initial TRL) of our R&D work and at its end (final TRL achieved).

Monitoring of adherend surface conditions and bondline quality by in-line techniques

During the manufacturing and repair processes of CFRP materials, the quality assurance of adherend surfaces has, up to now, been performed using the water-break test for the large-area inspection of wettability properties [

71

]. Hydrophobic surface areas (originating from residues of, e.g. release agents or lubricants) are detected by changes in the wetting behaviour. The test is performed manually and its evaluation is done visually with an individual pair of human eyes and is, therefore, is subjective and error-prone. The water-break test is followed by time- and work-consuming drying and cleaning steps for the investigated specimens. Furthermore, water-soluble contaminants cannot be detected by this procedure (though they might have been present in the non-investigated surface regions as well), which is another disadvantage. For the inspection of small areas, contact angle or also surface energy measurements and test-inks are commonly employed. These tests only allow a monitoring of very small areas of the sample and require an additional cleaning step before bonding, and it is even recommended that they be performed adjacent to the intended bonding area, not inside it. Figure

1.10

shows a demonstrative example of applying the water-break test (left) and an ultrasonic picture of a delamination in CFRP (right).
×
Adhesively bonded structures are also inspected by means of conventional NDT, e.g. visual inspection and audible sonic testing (tap test), to detect damages by comparing the local perception to one obtained in the vicinity or with a reference specimen. These tests are performed manually and are therefore subjective as the results depend to a great extent on the concentration, skills and experience of the operator. Furthermore, damage that is non-perceivable by unaided human senses will not be detected. More complex measuring techniques like ultrasound, thermography, shearography and radiography often need well-trained personnel and require time-consuming spectrum evaluation steps. Current conventional NDT techniques allow the detection of defects like pores, resin starvation/richness, wrinkles, discolouration (e.g. due to overheating, lightning strike), disbonding and delaminations in the joint area [
72
]. In addition, for ultrasound testing a couplant material such as water must be applied between the sensor and the investigated surface. Expensive re-drying and cleaning processes are therefore necessary and only single-point measurements are possible [
70
]. The state-of-the-art devices do not provide the necessary information for the quality assurance of adhesive joints and still have many disadvantages and shortcomings. The aforementioned state-of-the-art methods and devices are furthermore limited by the fact that defects like kissing bonds and a weakening of bonded joints cannot be detected.
Based on the results obtained within former research activities and extracted from a literature review, we carefully selected NDT technologies based on their state-of-the-art performance for further investigation in order to address these limitations. The identified technologies proved their capability to successfully detect contaminants relevant in aircraft manufacturing and in-service repair as well as to assess adhesive bond quality. All of the selected NDT techniques had the potential to reach a TRL high enough for their use in manufacturing and repair environments in order to provide quality control systems for surface and bondline inspection. The ENDT technologies that are relevant for the R&D work within this book are listed in Table
1.3
together with their main limitations in the early 2010s and the progress that was aspired to be realised within the project.
Table 1.3
State of the art, limitations of technologies and progress beyond limitations concerning ENDT for surface and bondline quality assessment contributing to quality assurance
Technology

State of the art (early 2010s)

Limitations (early 2010s)

Progress (shown in this book)

ENDT for surface quality assessment

Optically stimulated electron emission

OSEE is a fast, contactless NDT technique to detect contaminants on surfaces. With lab setups, a detection of different contaminations is achieved

• Lab-scale for small samples;

• Investigations limited to single

contaminations;

• Distance sensitivity and influence of surface topography unknown

Mobile detection unit for large-scale CFRP surface evaluation, influence of factors (topography, distance, mixture of contaminants) on signal rated

Laser-induced breakdown spectroscopy

Established for bulk metal and surface quality analysis

Contaminations detected by spectral peak evaluation of tracer elements

• Restricted to elemental peak evaluation;

• Limited to small sample sizes due to laser protection requirements; high costs

Evaluation of molecule bands including automated spectra evaluation, downsizing of the technique to reduce costs

E-nose is under rapid development for gas mixture analysis, classification and quantification of components. Its suitability for ENDT purposes has been demonstrated

• Unsuitable to cope with moisture contamination;

• Mixtures of contaminants not yet investigated;

• High costs per device;

• No onboard data analysis

Detection of contaminant mixes and water;

Minimal set of sensors to lower the costs;

Data analysis tools

Aerosol wetting test (bonNDTinspect)

Determination of surface wetting behaviour with AWT was successfully applied for the detection of surface contaminants. Existing lab setup

• Detection of multiple contaminants not tested;

• Large-area scanning and automation not yet performed

Development of automated AWT System (bonNDTinspect) for robotically operated AWT for large area scanning;

Measurement of surfaces with multiple contaminants

Detection of cracks and delamination in CFRP demonstrated; applicable to larger samples

Applicability for surface contamination and weak bonds not yet investigated

Improvement of signal processing techniques for full wave field measurements;

Signal analysis in wavenumber domain; separation of propagating wave modes;

Adaptive wavenumber filtering

Fourier transform infrared spectroscopy

Used for qualitative detection of different materials;

First approaches for quantitative evaluations of IR spectra by multivariate methods

Penetration depth in CFRP is restricted to the first fibre layer

No experience with a combination of different contamination scenarios

Collecting absorption spectra of contaminated surfaces and evaluating the data with a multivariate method

ENDT for adhesive bondline quality assessment

Shock waves adhesion test

Shock wave propagation used to induce localised and adjustable tensile stress within assemblies

Laser shocks have proved to be efficient in a variety of samples

• Availability of shock wave generation technologies;

• Difficulty to generate traction at a selected interface;

• Single shock duration tests not suitable for strong bondlines

Adjustable pulsed laser and plates launcher for shock generation

Numerical tool to determine adequate shock parameters

Linear and non-linear ultrasound

Linear ultrasound uses bulk and guided waves to detect changes in impedance

Non-linear ultrasound relies on non-linear phenomena to detect weak bonds

• Linear ultrasound showed limitations for the detection of weak bonds

• Non-linear ultrasound is hard to generate and the obtained data are difficult to interpret

Considers various guided wave modes that might be more sensitive to a lack of adhesion

Considered a more powerful source. Generated non-linear effect in the kissing bond area

Electromechanical impedance

Detection of weak bonds due to release agent using piezoelectric transducer was demonstrated

• Adhesively bonding the piezoelectric transducer is required

Analysing the influence of the transducer bonding; the investigation of the proper frequency range for assessing weak bonds; the development of multivariate analysis for the features extracted from the measured electromechanical spectra;

Measurement of electrical parameters without transducer
1.3.4

Impacts and Contributions

The use of CFRP as an innovative material for aircraft design has increased immensely within the few last years [

22

,

29

,

62

] (the Airbus A350 XWB is composed of up to 53% CFRP), leading to an increasing demand for both high quality and quantity of composite material and composite joints, accompanied by lower costs. Adhesive bonding as a joining technology can enable the use of the full potential of CFRP as a lightweight material for aircraft design and is already used for joining many CFRP-based aircraft parts. Admittedly, adhesive bonding has thus far not been applied for load-critical CFRP primary aircraft structures. However, it is highly desirable to facilitate adhesive bonding as a joining technology for load-critical primary structures because adhesive bonding and adhesive joints possess numerous advantages over other processes: homogeneous stress distribution, full automation capability, lightweight design, strong and even complex structure design, capability of joining two distinct materials, interesting properties in electrolytic and corrosion protection and finally high fatigue resistance furnishing a longer service lifetime compared to mechanically bonded structures.

Most of the aircraft produced nowadays contain a high amount of CFRP material and therefore require the adhesive bonding of CFRP in manufacturing, maintenance and repair [

29

]. From our point of view, this further emphasises the need for complete and reliable quality assurance concepts based on appropriate and resilient ENDT techniques for quality assessment. This large number of affected industry sectors leads to the huge impact of the findings and achievements reported in this book. The provision of quality assurance concepts (using ENDT techniques) for load-critical primary structures will allow the increased and optimal use of CFRP and the replacement of metallic assembly concepts resulting in weight, time and cost savings for the aeronautic and all related industries. Moreover, it directly supports the certification and continued airworthiness of repaired CFRP structures. The R&D work presented in this book is clearly aligned with this objective through the maturation, improvement and adaptation of ENDT technologies for the characterisation of, on the one hand, the CFRP adherend surface state before bonding (pre-bond) and, on the other hand, the CFRP bonded structures (post-bond) in order to establish complete and process-comprehensive quality assurance concepts. We consider this the key to overcoming current limitations for the use of CFRP in aeronautical applications.

We expect that the innovations reported in this book will result in substantial socio-economic, technical and environmental impacts. Firstly, an impact will be achieved by reinforcing the competitiveness of Europe's aircraft industry and European aircraft operators by assisting the development of high technology SMEs and by accomplishing an increment of safety resulting from more reliable components and processes, which will strengthen and augment the reputation of the European aviation and aeronautics industry. Secondly, our contributions will bring about an integration of innovative materials in aeronautics as well as automated measuring processes in combination with strong signal evaluation processes that will provide surface and structural health data and contribute significantly to the reduction of human errors; therefore, an increment of safety will result from more reliable components and processes, weight savings of aircraft will be facilitated, and an improvement of the safety and operational capabilities of aircraft will ensue. Thirdly, a significant reduction of energy for the performance of the inspection, for the manufacturing of replacement parts and for the manufacturing of primary structures will be feasible, as will a reduction of scrapping rates during manufacture or repair and a weight reduction of aircraft.

Finally, we would like to highlight and acknowledge again the invaluable contributions resulting from the strong cooperation within the ComBoNDT consortium and promoted by the dedicated project management. The consortium consisted of eleven partners, including major European aerospace companies as well as high-level research organisations and universities experienced in aeronautics research and development. The project team consisted of aircraft manufacturers (Airbus Group; AERNNOVA Composites Illescas S.A.) in close collaboration with the research partners Fraunhofer Institute for Manufacturing Technology and Advanced Materials IFAM (IFAM), Instytut Maszyn Przepływowych im. Roberta Szewalskiego Polskiej Akademii Nauk (IMP-PAN), Centre National De La Recherche Scientifique (CNRS), Agenzia nazionale per le nuove tecnologie, l'energia e lo sviluppo economico sostenible (ENEA), University of Patras (LTSM-UPAT), and the Commissariat à l'énergie atomique et aux énergies alternatives (CEA), together with the small and medium-sized enterprises EASN Technology Innovation Services BVBA (EASN), GMI Aero SAS (GMI), and Automation W + R GmbH (AWR).
1.4

Synopsis

In this chapter, we presented a short introduction to ENDT and quality assessment in adhesive bonding processes relevant to the manufacture or repair of composite structures. We highlighted their relevance as field-level sensing systems for industrial automation and also for literally safeguarding quality in various steps of adhesive bonding processes. They will essentially contribute to quality assurance and optimisation within a manufacturing technology that we consider the most auspicious of the twenty-first century for innovations in joining functional or lightweight materials and components.

Based on a fast, firm and formal description of adhesive bonding processes and conferred to quality assurance, we determined that the analytical requirement for a monitoring process is far less complex than predicting any property of the ultimately manufactured adhesive joint, like the initial (or even final) strength or fracture toughness, which is often set as a fundamental design specification. Rather, indicating any deviations from a known, understood and qualified procedure will facilitate the timely, purposeful and precise amendments for achieving and maintaining the technologically relevant material and environment states following the requirements. All things considered, the documented compliance with documented procedures contributes to risk reduction and safety, while also safeguarding the economic value and social acceptance of the processes and products.

We have detailed that, especially in the past decade, the monitoring of quality-relevant operand features which are characteristic for the adherend and adhesive materials has caught up with the virtually established methods and instrumentation for controlling the acting operators, i.e. process factors which effectuate changes of the operand features. A major contribution to this advance in operand QA was traced back to recent developments of ENDT tools, e.g. in the European joint research projects ENCOMB and ComBoNDT. Moreover, we explicated the layout of a concept that was developed in these interdisciplinary and applied research projects. This is based on an interdisciplinary, comprehensive and forthright analysis and a description of the supposedly controlled production environment and monitoring of deviations or events which occur when quality-relevant operator-related factors are intentionally and quantitatively altered in technologically relevant increments.

We hope that we have intrigued our readers, and we will animate this concept for ENDT and quality assessment in adhesive bonding within the subsequent chapters of this book.
Open Access
This chapter is licensed under the terms of the Creative Commons Attribution 4.0 International License (
http://​creativecommons.​org/​licenses/​by/​4.​0/​
), which permits use, sharing, adaptation, distribution and reproduction in any medium or format, as long as you give appropriate credit to the original author(s) and the source, provide a link to the Creative Commons license and indicate if changes were made.
The images or other third party material in this chapter are included in the chapter's Creative Commons license, unless indicated otherwise in a credit line to the material. If material is not included in the chapter's Creative Commons license and your intended use is not permitted by statutory regulation or exceeds the permitted use, you will need to obtain permission directly from the copyright holder.