Erschienen in: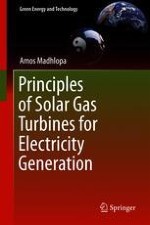 2018 | OriginalPaper | Buchkapitel
1. Introduction to Solar Gas Turbines
Abstract
Fossil fuels are the main source of primary energy worldwide. Nevertheless, heavy reliance on these fuels is contributing to environmental degradation. In addition, concerns about energy security are arising from the consideration of depletion of the reserves of fossil fuels, fossil price fluctuations, rising competition from evolving consumer countries, political conflicts in areas which are rich in hydrocarbons and high economic impacts which ensue when there is disruption in the energy supply. In this vein, international and national policies are being reviewed to increase the share of renewable energy in the energy mix. A gas turbine engine is one of the technologies which can be driven by renewable energy resources such as solar radiation and biofuels. This engine exhibits higher thermodynamic performance compared to the widely exploited steam cycle. Existing gas turbines are designed to operate on conventional fuels and, therefore, they need modification before solar energy can be integrated on the inlet side of the turbine. Solar radiation can be converted to high-grade heat (up to 1773 K) using concentrating solar power technology. These levels of temperature are suitable for solarisation of the gas turbine system.