2013 | OriginalPaper | Buchkapitel
Introduction to Space Systems for Meteorology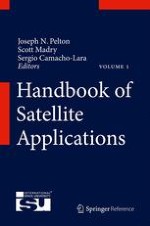 Erstes Kapitel lesen
Autoren: Dr. Joseph N. Pelton, Dr. Scott Madry, Dr. Sergio Camacho-Lara
Verlag: Springer New York
Abstract
The world's meteorological satellite systems are today vital to every nation in the world not only for reliable weather forecasts, but also for key storm warnings and potential disaster alerts in the case of hurricanes, tornadoes, typhoons, monsoons, floods, and other violent and potentially lethal meteorological events. Since the advent of polar-orbiting and geosynchronous meteorological satellites, the ability to predict weather accurately and reliably, for ever longer periods of time, has increased to a remarkable extent. With a diverse suite of sophisticated instruments, meteorological satellites also gather essential data for climate change studies. The first systems were pioneered by the United States and by NASA experimental satellites, but over time Europe, Russia, Japan, China, and India have evolved increased capabilities to monitor weather systems using increasingly sophisticated imaging systems and allow effective sharing of meteorological data on a global scale. The combination of polar orbiting and geosynchronous satellites has allowed higher resolution images to be combined into accurate regional and global displays to see broad patterns of weather formations. New capabilities such as lightning intensity mapping have allowed greater capability to predict storm patterns and where the most violent and more energetic storm fronts are headed.
The global sharing of meteorological data and the combined imaging of international meteorological satellites have not only greatly contributed to effective long range weather forecasting on land and in the oceans, but have also allowed the collection of data to monitor longer-term conditions associated with climate change, global warming, and increases in aridity in some regions and increased rainfall in others. In short, meteorological satellites have evolved, particularly in the last decade, to serve an important role in not only short- to medium-term weather forecasting but also to provide important data with regard to national, regional, and global environmental assessment and analysis.
The value of meteorological satellite systems and other Earth observation satellite systems for measuring the internationally recognized Essential Climate Variables (ECVs) and for monitoring changes on land, oceans, and atmosphere is greatly increased when the acquired data is made available to national and international user organizations. A study by the International Academy of Astronautics recommends, among other things, that space agencies, companies, universities and nongovernmental organizations, and other international bodies already acting for the coordination of space agencies in the area of climate monitoring should work together to guarantee over time the continuous operational availability of the space sensors and datasets that are necessary for the monitoring of the space-observable ECVs (International Academy of Astronautics, in
Study on Space Applications in Climate Change and Green Systems: The Need for International Cooperation
, November 2010, eds. J.C. Mankins, M. Grimard, Y. Horikawa, ISBN EAN 9782917761113, pp. 15–21). Such cooperation is aimed at reinforcing the programmatic coordination of the Earth Science programs worldwide, in the frame of institutions such as the Group on Earth Observations (GEO) and the Committee on Earth Observation Satellites (CEOS), with the goal of guaranteeing the continuous long-term availability for all nations of all space-observable ECV, as defined by the Global Climate Observing System (GCOS); and contribute to the elaboration and implementation of GEO data sharing principles (
http://​www.​earthobservation​s.​org/​art_​015_​002.​shtml
).
Despite patterns of data sharing and international cooperation with regard to data collection by meteorological satellite systems, there are limits to full disclosure of all satellite data. In particular, there remain certain areas of strategic concern in the context of possible military or defense-related use of meteorological and remote sensing data in the case of hostilities. It is partially because of these strategic and national defense-related concerns that so many different meteorological satellite systems have been deployed and why some parts of the imaging might be encrypted in a manner so that all data that is collected may not be in all instances fully shared. Despite these strategic concerns and interests, most meteorological satellite imaging data is today widely shared and global cooperation is quite universal.
The areas of satellite communications, remote sensing, and satellite navigation have all – to some degree – evolved toward more commercialized economic models and thus have become more oriented to competitive markets. This is not to say that these other space applications services are fully commercialized since there are some well-defined military, defense, and governmental services for satellite communications, remote sensing, and satellite navigation that remain as "publicly provided services." In the case of meteorological satellites, however, these space applications remain entirely as governmental services.
Despite discussions and analysis of how meteorological services might transition to commercial service providers within the United States, the provision of space-based meteorological services seems likely to remain as essentially a "public good" and not commercialized in any space faring nation. Although many countries, private businesses, and individuals derive major benefits from meteorological satellite images, no viable economic model has yet evolved whereby these services might be commercialized.
In the chapters that follow specific information about various national and regional meteorological satellite systems will be presented. This introductory chapter provides a quick overview of the various systems that have evolved over time and some information perspective on how these systems are coordinated and work together through the World Meteorological Organization (WMO) and the World Weather Watch (WWW) program (World Meteorological Organization
http://​www.​wmo.​int/​pages/​index_​en.​html
also see "Lessons Learned about the Integrated Global Observing Strategy through the World Weather Watch"
http://​www.​un.​org/​earthwatch/​about/​docs/​igusland.​htm
).