Erschienen in: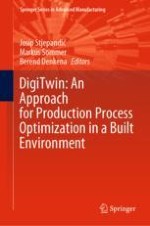 2022 | OriginalPaper | Buchkapitel
1. Introduction to the Book
Abstract
As a recently coined buzzword without a clear definition, Digital Twin relies on the high-fidelity digital representation of the physical product and the continuously accumulated data and real-time presentation of the collected data to simultaneously update and modify with its physical counterpart. In research and practice, many types and expressions of Digital Twin take place for plethora of use cases along the product lifecycle. The simulation of production processes using a Digital Twin can be utilised for prospective planning, analysis of existing systems or process-parallel monitoring. In all cases, the Digital Twin provides manufacturing companies various benefits for improvement in production and logistics processes leading to cost savings and higher flexibility. The generation of the Digital Twin in a built environment poses a huge challenge—in particular for small and medium-sized enterprises. For this market segment, appropriate concepts and solutions need to be elaborated and developed, including modern IT techniques such as Machine Learning. In this introductory chapter, the approach used to pave the way for this book is presented. The idea of Digital Twin, the origins, the goals and the expected audience of this book are roughly described. Finally, we give the first insight in the content of this book and the mutual interdependence of the chapters. This book explores the way to generate and commercialize the Digital Twin in manufacturing in order to provide a convincing offering as the outcome of a public-founded research project.