2017 | OriginalPaper | Buchkapitel
1. Introduction: What Is Critical Theory?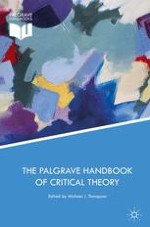 Autor: Michael J. Thompson
Verlag: Palgrave Macmillan US
Abstract
This handbook grants the reader access to the tradition and the core concepts and approaches of critical theory. What has been attempted here is not only a survey of critical theory as a concept, but also an effort to delineate the major impulses of the traditions, irrespective of current academic fads and fashions. The purpose of this handbook is therefore not only to guide the reader through the most essential aspects of critical theory and its major areas of concern, but also to seek to offer new perspectives on a still vibrant, very much active domain of research and method of thinking about the world. These contributing authors therefore survey much of the core themes, ideas, thinkers, and epistemological concerns of critical theory as a structure of thought, keeping alive many of the basic concepts and approaches that the critical theory tradition has at its core and the flame of rational, immanent social criticism burning for a new generation, who will, in time, seek to transform their world.