2005 | OriginalPaper | Buchkapitel
Introduction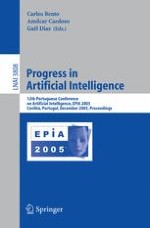 Erstes Kapitel lesen
Autoren: João Gama, João Moura-Pires, Margarida Cardoso, Nuno Cavalheiro Marques, Luís Cavique
Verlag: Springer Berlin Heidelberg
Enthalten in: Professional Book Archive
The 2005 EKDB&W –
Extracting Knowledge from Databases and Warehouses
workshop objective was to attract contributions related to methods for nontrivial extraction of information from data. This book of proceedings includes 10 selected papers (resulting from 3 reviews). We believe that the diversity of these papers illustrates the EKDB & W objective attainment.
Unsupervised Learning (Clustering methods in particular) was addressed in 3 papers: (i) an extension of traditional SOM was proposed which considered specific measures of distance for categorical attributes; (ii) an empirical ranking of information criteria was provided for determining the number of clusters when dealing with mixed attributes in Latent Segments Models; (iii) CLOPE was found particularly useful to deal with binary basket data and provided the means to define web User Group Profiles. Supervised Learning was addressed in 3 papers: (i) multi-output nonparametric regression methods were presented comparing alternative ways to integrate co-response observations; (ii) Peepholing Techniques were adapted for Regression Trees, providing means to reduce the number of continuous variables and the ranges considered for nodes splitting; (iii) a Multi-Layer Perceptron was used to classify vector structures derived using the Law's Algorithm. Three papers address the issue of data and knowledge extraction dealing directly with databases and data warehouses: (i) a methodology to evaluate the quality of Meta-Data describing contents in web portals was proposed; (ii) a new approach to retrieve data from semi-structured text .les and integrate it in a decision support system was proposed; (iii) an alternative approach for itemset mining over large transactional tables was presented. Finally, an alternative approach to the L* algorithm was proposed, trying to diminish the needless repetition of membership queries.
Application domains were very diverse and illustrated the practical utility of the presented methodologies. They ranged from Web services and Retail to the treatment of Sea surface data, Space Weather and Spacecraft data. Papers in these areas hopefully contributed bridge the gap between research and practice. The EKDB & W Workshop would not have been possible without the contribution of Authors, Program Committee members and EPIA 2005 Organizers. All deserve our thanks and appreciation.