2017 | OriginalPaper | Buchkapitel
1. Introduction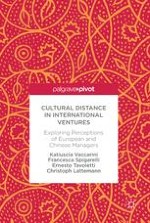 Autoren: Katiuscia Vaccarini, Francesca Spigarelli, Ernesto Tavoletti, Christoph Lattemann
Abstract
In this book, we investigate the concept of "distance", in particular the concepts of "cultural distance" and "psychic distance" in international business contexts. We particularly focus on the green tech industry and Sino-European FDI. We analyze managers' perceived distance (measured on twelve dimensions such as culture, language, political system, and business practices) between the firm's home country and the firm's host country (Child et al.
2009
). After introducing the concept of psychic distance and the context of our research, we present in the second chapter a systematic literature review on psychic distance as a factor for FDI motivation and location decisions. Chapter
3
follows up on the relevance of culture and cultural differences in international business and illustrates how insights from the field of social psychology may help to overcome cultural pitfalls in international business and how to manage cultural conflicts. The fourth chapter explores managers' perceptions of psychic distances in the context of European green tech FDI to China by applying a multiple-case study research design. Our analyses show that managers' perceptions of psychic distances vary over time, i.e., between the points in time before managers enter a market and after they have entered the market. In Chap.
5
, we examine the relevance of Chinese managers' perceived distance for their FDI decisions and the changes of their perceptions after entering a foreign market and after gaining experiences in operating in the host country. Here, we particularly focus on Chinese FDI flows in the green tech sector to Europe, with a country focus on Germany, by presenting six case studies. This analysis shows that managers, with and without experiences in foreign markets, should not depend their FDI decision on their perceptions of differences between countries. This book ends with concluding remarks and a summary of the research findings. The presented research is part of an EU Marie Curie project on
Partnering Opportunities between Europe and
China
in the Renewable Energy and Environmental iNdustry
(POREEN
1
).