2019 | OriginalPaper | Buchkapitel
1. Introduction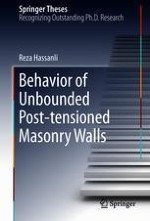 Autor: Dr. Reza Hassanli
Abstract
Masonry is probably the oldest and one of the most widely used man-made construction materials in the world (Ganz in Post-tensioned masonry structures. SL Report Series 2. VSL International Ltd., Berne, Switzerland, 35 pp,
1990
; Bean Popehn and Schultz in Flexural capacity of post-tensioned masonry walls: code review and recommended procedure. PTI J 1(1):28–44,
2003
; Drysdale and Hamid in Masonry structures: behavior and design. Canadian masonry and design Center, Mississauga, Ontario,
2005
). The major advantage of masonry is that in terms of raw materials it is highly available worldwide and in terms of construction it is easy and economical. Moreover, masonry is a highly durable, fire resistant and sound absorbing material.