2019 | OriginalPaper | Buchkapitel
1. Introduction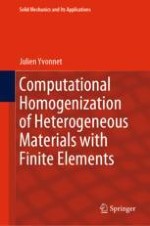 Autor: Julien Yvonnet
Abstract
The need for materials with higher performances is a strategic issue in engineering. Composite materials, i.e., combining at least two constituents with desired properties like mechanical resistance and lightness, have been developed and applied in many fields of engineering, and are now routinely used in many applications, including automotive industry, aircrafts, drones, biomedicals, wind turbines, sports, and leisure, etc. (see reviews in [
1
–
6
]). On the other hand, heterogeneous materials are found in many other engineering or science fields, such as cementitious materials in civil engineering or biomechanics. More recently, the progress in manufacturing techniques have allowed producing very complex materials like metallic foams (see Fig.
1.1
a), or even allowed producing materials with "on demand" microstructures [
7
,
8
] via 3D printing techniques, see Fig.
1.1
b. Developing new materials involves synthesis, manufacturing, and testing for certification. This process is long and costly, and usually only involves a "trial and error" procedure, rather than a clear optimization methodology.