2013 | OriginalPaper | Buchkapitel
1. Introduction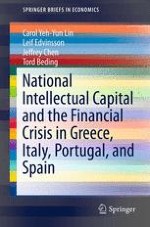 Autoren: Carol Yeh-Yun Lin, Leif Edvinsson, Jeffrey Chen, Tord Beding
Verlag: Springer New York
Abstract
In the first decade of the new millennium, the biggest event that caught worldwide attention was the 2008 global financial crisis, which was brought about primarily by ineffective governance, failed surveillance systems, and implementation flaws. These problems are mainly intangible in nature. Therefore, examining the financial crisis from the viewpoint of intangible asset provides a different perspective from traditional economic approaches.
National intellectual capital (NIC), mainly consisting of human capital, market capital, process capital, renewal capital, and financial capital, is a valuable intangible asset and a key source of national competitive advantage in today's knowledge economy. This booklet looks into the connections between the 2008 global financial crisis and NIC development with a special focus on Greece, Italy, Portugal, and Spain.
In addition to the summaries of financial crisis impact, aftermath, future prospects, and challenges of each individual country, NIC analysis based on data covering 2005–2010 for 48 countries reveals that the higher the NIC, the higher the GDP per capita (ppp). Graphical presentations of various types allow for intra-country and intercountry comparisons to position the reported four countries on a world map of NIC-GDP co-development.
By looking into tangible economic development along with intangible NIC development, this booklet provides valuable implications for policy makers.