2014 | OriginalPaper | Buchkapitel
1. Introduction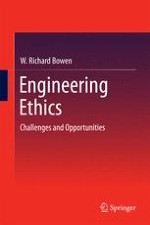 Autor: W. Richard Bowen
Abstract
Engineers are renowned for their great technical ingenuity. This ingenuity has profoundly changed the world we live in. Many of these changes are hugely beneficial, such as clean water production and sanitation, energy generation, large-scale pharmaceutical manufacture, hygienic food processing, functional buildings, transport infrastructure, mechanical devices, medical diagnostic equipment, instrumentation, computing and telecommunications. Some other changes are hugely deleterious, such as weapons manufacture and proliferation, damage to the natural environment and activities that directly disadvantage vulnerable populations. An important underlying factor giving rise to such widely differing outcomes of engineering activity is that the engineering profession as a whole has given a high priority to technical ingenuity whilst giving only muted attention to ethical responsibility. This is exemplified in the almost entirely technical content of many university engineering courses and the highly technical focus of most commercial engineering enterprises. Such imbalances give rise to the greatest challenge to contemporary engineers, and the central concern of the present book:
can the great technical innovation of engineering be matched by a corresponding innovation in the acceptance and expression of ethical responsibility?
The Introduction sets the scene for this challenge by considering professional ethical codes, the fundamental nature of ethics and contrasts between engineering and technology. It then provides an outline of the development of the book.