2015 | OriginalPaper | Buchkapitel
1. Introduction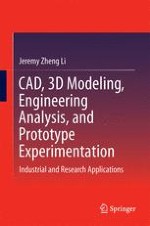 Autor: Jeremy Zheng Li
Abstract
3D modeling can perform mathematic and geometric analysis on 3D object surfaces via CAD software (Gupta et al. 2010). 3D models can be expressed as 2D images via process of
3D rendering
and used in computer-aided simulation to study physical phenomena (Kim and Kim 2011). 3D models can also be geometrically created by
3D printing
process. 3D modeling technology allows efficient modeling processes including
curve-controlled modeling
that can simulate the motion of 3D objects instead of only static geometry (Senthil et al. 2013).
3D computer graphics software
can assist 3D modeling processes to create
3D geometrical models
. 3D models can represent
3D object
s by collecting points connected by different geometric entities including lines, triangles, squares, rectangles, curved surfaces, and irregular geometries in three-dimensional space (Lee et al. 2011). 3D modeling is widely utilized in many different areas, such as
3D graphics
design, product development, and
computer games
(Sun et al. 2005). 3D modeling processes include solid modeling that defines object by volume and shell/boundary modeling that determines object by defining surfaces and boundary (Sipiran and Bustos 2010). 3D modeling can transform all object points, such as internal points and points on circumference surfaces, into polygon elements representing the sphere and volume for model rendering (Ouertani et al. 2011). Triangular modeling meshing is widely used since the meshes can be easily rendered. Polygon meshing element is another modeling method but it is not very popular since the tessellation processing is not provided in the transition to achieve rendering surfaces (Li et al. 2012). 3D polygonal modeling is one of the most popular modeling methods due to its accurate, flexible, and quick meshing process. In 3D polygonal modeling, 3D points are linked via many tiny line elements to generate polygonal meshes (Harik et al. 2008). 3D curved modeling is another common method, in which all the object surfaces are specified by curves that are manipulated by the weight-controlled points in 3D space. The curves will move close to the points when weight of these 3D points is increased for more accurate modeling process (Reich and Paz 2008). Compared to 2D modeling methodology, 3D modeling can change and animate parts with (1) quick object rendering, (2) easier object rendering, and (3) more accurate rendering (Tian et al. 2009). 3D modeling has been applied in different businesses and industries including movie filming, consumer product design, industrial design, cartoon animation, video gaming, architecture design, and engineering research (Walthall et al. 2011). CAD software can be used to assist 3D modeling for product design and development.