2014 | OriginalPaper | Buchkapitel
1. Introduction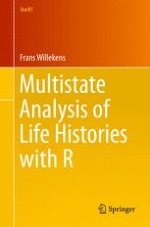 Autor: Frans Willekens
Abstract
In this book, a particular class of models is considered: multistate models. Multistate models are ideally suited to model life histories. At a given instant, an individual has a set of attributes, such as marital status, employment status, living arrangement, health status and place of residence. In multistate analysis, a person with a given set of attributes is said to occupy a given state, and persons with the same attributes occupy the same state. When an attribute changes, the person moves to a different state. Most personal attributes change in the life course, implying transitions between states. Marriage, marriage dissolution, birth of a child, job change, migration, onset of disability and death are events that imply a transition between states. The set of possible states is the state space. The state variable is the state an individual occupies at a given time or age. If individuals are combined in cohorts or populations, the state variable is the number of individuals in a state at a given time or age.
The life course is operationalised as a sequence of states and transitions between states.
Two types of states are distinguished: states that can be entered and left (transient states) and states that can be entered but not left (absorbing states). Age is not a personal attribute; it is a time scale. Different time scales may be used to measure time to transition, calendar time and age being the most common time measurements.