2015 | OriginalPaper | Buchkapitel
1. Introduction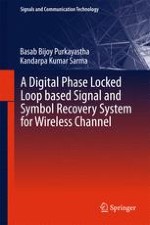 Autoren: Basab Bijoy Purkayastha, Kandarpa Kumar Sarma
Verlag: Springer India
Abstract
In this chapter an overview of phase lock loop is presented, starting with a short review of the history of the PLL in Sect.
1.2
. In the following section, Sect.
1.3
, various applications of a PLL are discussed. In Sect.
1.4
, we discuss the implementation of PLL in communication centric applications. The continued progress in increasing performance, speed, reliability, and the simultaneous reduction in size and cost of integrated circuits (LSI and VLSI) has resulted in a strong interest in the implementation of the phase-locked loop (PLL) in the digital domain. In Sect.
1.5
, we give a brief review of the digital version of PLL. Finally, the chapter ends with a note on the organization of this monograph.