1979 | OriginalPaper | Buchkapitel
Introduction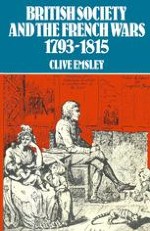 Autor: Clive Emsley
Verlag: Macmillan Education UK
Enthalten in: Professional Book Archive
During the nineteenth century and up to 1914, whenever a Briton spoke of the 'Great War' he meant the twenty-two years' struggle between Britain and revolutionary and Napoleonic France. Yet, surprisingly, as late as 1911 Sir John Fortescue noted that there was virtually no 'single history…of England during the years 1789–1815'.
1
Possibly the interruption of the second 'Great War' held up such a book, but it was not until the Second World War that this simple history was produced and at least one spur to its production was the possibility of comparing the struggle against Nazi Germany with the earlier struggle against revolutionary and Napoleonic France. In the preface to
The Years of Endurance 1793–1802
Arthur Bryant suggested that his reader would find in the book 'many of the familiar phenomena of our own troubled time'.
He will see that proscription, imprisonment and murder of political opponents, the denial — in the name of liberty and patriotism — of all freedom of speech and, as the appetite for blood grew, an orgy of sadistic cruelty.… He will see mass hatred employed as a motive force and ideological ends held out as justifying every means, however base and destructive. He will see a 'great nation' denying all morality but unconscious allies or dupes in every decaying eighteenth-century state turned by war into 'fifth-columnists' and by defeat into 'quislings'.

2