2012 | OriginalPaper | Buchkapitel
18. Invalidity Risks Management Technologies of Systems for Standard ISO 9001-2008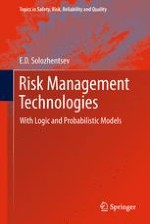 Erstes Kapitel lesen
Autor: E. D. Solozhentsev
Verlag: Springer Netherlands
Jetzt einloggen
Abstract
Standard ISO 9001-2008 requires an assessment of invalidity (quality) of economic and engineering systems and processes. The invalidity is the inconsistency between parameters and elements of a system and qualifying technical conditions and requirements.
We consider Risks management technologies for analysis and management of the processes invalidity risk: the description of invalid events and variables; the logic and probabilistic (LP) model of the system invalidity risk; the assessment and analysis of the system invalidity risk; the management of the system states invalidity risk; the management of the systems development invalidity risk.
We propose a general scheme of building an LP-risk model of invalidity of economic, technical and organizational system and processes. We consider the technologies of building LP-models of validity on the examples: management of development of economical and technical systems; flight tests of machines, processes and systems; the electric metallurgical plant electrical power supply system and the system of an ammunition depot explosion prevention.
We consider the following problems regard to the construction of LP-invalidity risk models: (1) engineering, methodological, logical and calculation aspects; (2) taking into account the replication of elements and events in LP-models of invalidity risk in complex systems and processes; (3) taking into account the peculiarities of LP-risk models of invalidity, built on the basis of technical documentation and by the events scenarios; (4) the technique of building the LP-model of invalidity proposes ten different representations of LP-model of invalidity.