2006 | OriginalPaper | Buchkapitel
Inverse heat conduction problem: Estimation of a source term for an electron beam welding; Theoretical and experimental validations.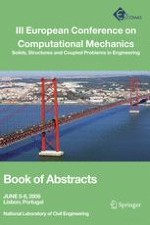 Erstes Kapitel lesen
Verlag: Springer Netherlands
The present study is concerned with a two-dimensional inverse phase change problem. The goal is the estimation of the dissipated heat flux in the liquid zone (reconstruction of a source term in the energy equation) from experimentally measured temperatures in the solid zone. This work has an application in the electron beam welding of steels of thickness about 8 cm. The direct thermo-metallurgical problem is treated in a quasi steady two-dimensional longitudinal plane (x,y). The beam displacement is normally in the y direction. But in the quasi steady simulation, the beam is steady in the studied plane. The sample is divided in the axial direction in few planes. At each plane, a source term is caused by a pmt of the beam and creates a vaporized zone and a fused zone. The goal of this work is the rebuilding of the complete source term with the estimations at each plane. The metallurgical transformations, in pmticular, in the phase change zone are simulated with metallurgical kinetic equations of the types Leblond-Devaux and Koistinen-Marburger. The parameters of these equations are obtained from CCT (Continuous Cooling Transformation) diagrams. The difficulty of the representation of these metallurgical transformations comes from impoltant number of parameters that must be taken into account (grain size, types of metallurgical phases, heating speed or cooling speed, temperature and others). h fact, in this heat affected zone, it is necessary to use several CCT diagrams. Another difficulty comes from the definition of the solid-liquid interface. The fusion of steels spreads out in several tens degrees and it's rather difficult to define the interface. The iterative regularization method is used to find a solution of the problems under analysis. The inverse code is verified with the numerical simulation of temperatures "measured" at the sensor locations by solving numerically the direct problem. Experimentation is presented. We show the quality of the instrumentation and the exploitation of the measurements. At last, the experimental results obtained with a steel sample (16MNDS) are presented and discussed.