2016 | OriginalPaper | Buchkapitel
Investigating a Dictionary-Based Non-negative Matrix Factorization in Superimposed Digits Classification Tasks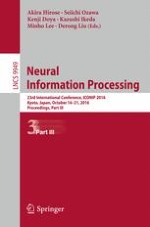 Erstes Kapitel lesen
Autoren: Somnuk Phon-Amnuaisuk, Soo-Young Lee
Abstract
Human visual system can recognize superimposed graphical components with ease while sophisticated computer vision systems still struggle to recognize them. This may be attributed to the fact that the image recognition task is framed as a classification task where a classification model is commonly constructed from appearance features. Hence, superimposed components are perceived as a single image unit. It seems logical to approach the recognition of superimposed digits by employing an approach that supports construction/deconstruction of superimposed components. Here, we resort to a dictionary-based non-negative matrix factorization (NMF). The dictionary-based NMF factors a given superimposed digit matrix,
V
, into the combination of entries in the dictionary matrix
W
. The
H
matrix from
\(V \approx WH\)
can be interpreted as corresponding superimposed digits. This work investigates three different dictionary representations: pixels' intensity, Fourier coefficients and activations from RBM hidden layers. The results show that (i) NMF can be employed as a classifier and (ii) dictionary-based NMF is capable of classifying superimposed digits with only a small set of dictionary entries derived from single digits.