19.06.2015 | Technical Paper | Ausgabe 3/2016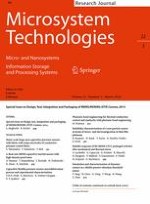 Investigating fracture strength of poly-silicon membranes using microscopic loading tests and numerical simulation
Zeitschrift:
Autoren:

John Brueckner, Alfons Dehé, Ellen Auerswald, Rainer Dudek, Dietmar Vogel, Bernd Michel, Sven Rzepka
Wichtige Hinweise
Part of this work was performed within the Federal Cluster of Excellence EXC 1075 "MERGE Technologies for Multifunctional Lightweight Structures" supported by German Research Foundation (DFG). Financial support is gratefully acknowledged.
Abstract
The fracture strength of poly-silicon as widely used membrane material in micro electro mechanical system applications has a critical impact in respect to design, function and reliability of e.g. pressure sensors or microphones. This circumstance necessitates the investigation of the fracture strength of these poly-silicon membranes. In this study the strength was investigated by experimental tests and numerical simulations. A new fracture test has been developed that applies a well-defined and almost constant stress within a certain region of the membrane and prevent a cracking of the membrane at the edge. The brittle behavior of poly-silicon needs a statistical evaluation of the results. To this end, a set of 45 membranes was tested at each of the three positions on the wafer in order to assure statistical accuracy and to evaluate the strength distribution across the wafer. The experimental loading tests were attended by scanning electron microscopy to examine the microstructure and the crack path. Using finite element simulation, the non-linear deformation behavior during membrane loading was analyzed and the fracture stresses were calculated. In the final step the obtained results were statistically evaluated by means of a two-parametric Weibull distribution. High values were found for the characteristic fracture stresses. They are in the range of 5400–6000 MPa.