2010 | OriginalPaper | Buchkapitel
Investigating the Effect of Speed on the Moment Acting on the Spine and Muscles Behavior during Loading by Utilizing Motion Analysis System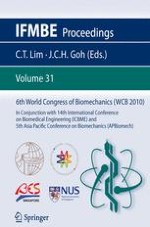 Erstes Kapitel lesen
Autoren: M. Ghofrani Maab, F. Tabatabaei
Verlag: Springer Berlin Heidelberg
Objective: To measure Bending Moment acting on the L5 (of lumbar vertebrae) during loading different speeds, by utilizing optoelectronic motion analysis system and show how speed and dynamic factors might affect increasing of spine injury.
Study design: This study has been using the trajectory of joint movement in a 5 linkages 2-dimensional model consist of: Foot & Leg, Trunk & Neck, Upper Arm and Forearm & Hand, which have prepared by motion analysis system during 8, 10 and 12 kg weight loading. The motion analysis system model is VICON 460 with 6 Infra-red cameras that tracked reflective markers on the subject's body whit 100Hz frequency.
Background: since soft tissues are viscoelastic, the bending stress depends on the speed and time duration. Not only the muscles are affected of speed but also the dynamic factors (speed and acceleration) can cause massive increasing of moment. Over the years, mathematical modeling (such as finite element method) has established as a complementary to experimental approach in investigating clinical problems of the spine as well as predicting the biomechanical behavior.
Method: starting from calculating centre of gravity of each segment of body and then bending moment of them by applying the Newton Euler equation, during movement (the geometric data of nodes are extracted from software of motion analysis system). Total bending moment on the L5 at different speeds and relationship between flexion angle rate and moment in whole frame have been studding.
Conclusion: Increasing the speed of lifting weights causes more injury on the discs and muscles of spine, because of the prominent role of spine as a fulcrum of body.