12.06.2019 | Full Research Article | Ausgabe 3/2019 Open Access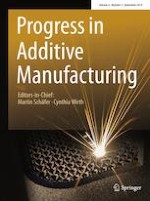 Investigating the impact of additive manufacturing data exchange standards for re-distributed manufacturing
Zeitschrift:
Autoren:

Eujin Pei, Malte Ressin, R. I. Campbell, Benoit Eynard, Jinhua Xiao
Wichtige Hinweise
Publisher's Note
Springer Nature remains neutral with regard to jurisdictional claims in published maps and institutional affiliations.
Abstract
The paradigm shift towards a decentralised approach of cloud manufacturing requires tighter standardisation and efficient interfaces between additive manufacturing (AM) data and production. In parallel with technology advancements, it is important to consider the digital chain of information. Although a plethora of AM formats exist, only some are commonly used for data transfer. None of these AM data transfer standards specifically addresses the needs of the re-distributed manufacturing (RDM) landscape. The purpose of this study is to identify the required features for AM data transfer standards to support a RDM landscape. The study examined the data flow from CAD to AM and reviewed established shortcomings of existing data exchange standards such as STL. After identifying the data exchange standards for AMF, 3MF, STEP and STEP-NC as promising replacements for STL, their premises, objectives, contributions and advantages were reviewed. The role of AM to support RDM by overcoming tooling costs and the associated need for economies of scale was also reviewed. Focus group interviews and surveys were conducted with AM and RDM experts from industry and academia and the participants' accounts were analysed for common themes and narratives. Finally, the suitability of existing data transfer formats was examined by compiling existing and expected standard features and having them rated by AM experts. The study showed that STEP-NC and AMF standards are ahead in implementing the most highly valued data transfer features. Open standards are also expected to further facilitate innovation in AM. The survey also identified that the top five features deemed most important by the participants for data exchange formats for RDM were regular internal structures/lattices, manufacturing tolerances, geometric representation, curvature representation, and surface structures. This study has contributed towards evaluating existing standards and their future development and adoption. It is hoped that the results will benefit policy makers and industry leaders to be aware of the importance of data exchange standards for AM so as to pave a clear roadmap for the Digital Economy in a RDM landscape.