22.04.2015 | Ausgabe 6/2016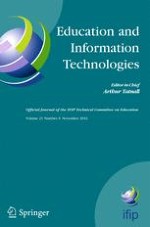 Investigating the learning challenges presented by digital technologies to the College of Education in Kuwait University
Zeitschrift:
Autoren:

Fayiz Aldhafeeri, Trevor Male
Abstract
There is now widespread recognition that digital technologies, particularly portable hand held devices capable of Internet connection, present opportunities and challenges to the way in which student learning is organized in schools, colleges and institutions of higher education in the 21st Century. Traxler,
Journal of the Research Centre for Educational Technology
,
6
(1), 3–15
(2010)
suggests such devices are pervasive and ubiquitous, conspicuous and unobtrusive, noteworthy and taken-for-granted with everyone typically owning one, using one and often having more than one. As a consequence it has been argued that the availability of such devices, controlled mainly by the student and not the teacher, has the potential to change the traditional dynamics and pedagogical patterns of the learning environment (Burden et al.
2012
). Education institutions, however, typically remain organized around spatial and temporal considerations such as buildings, timetables, calendars and internal structures which are designed to classify and manage students. In the case study reported here students and faculty teaching staff from the College of Education in the Kuwait University were surveyed in order to assess their access to such technologies, their capability to use them effectively in support of achieving planned learning outcomes and the implications for change that could emanate from such findings.