01.06.2015 | Ausgabe 6/2015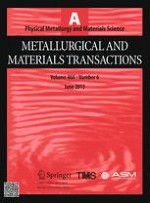 Investigation of Clusters in Medium Carbon Secondary Hardening Ultra-high-strength Steel After Hardening and Aging Treatments
Zeitschrift:
Autoren:

R. Veerababu, R. Balamuralikrishnan, K. Muraleedharan, M. Srinivas
Wichtige Hinweise
Manuscript submitted January 24, 2014.
Abstract
Clusters, containing between 10 and 1000 atoms, have been investigated in a martensitic secondary hardening ultra-high-strength steel austenitized at 1173 K (900 °C) for 1 hour and tempered at either 768 K or 783 K (495 °C or 510 °C) for 4 or 8 hours using 3D atom probe. The presence of clusters was unambiguously established by comparing the observed spatial distribution of the different alloying elements against the corresponding distribution expected for a random solid solution. Maximum separation envelope method has been used for delineating the clusters from the surrounding "matrix." Statistical analysis was used extensively for size and composition analyses of the clusters. The clusters were found to constitute a significant fraction accounting for between 1.14 and 2.53 vol pct of the microstructure. On the average, the clusters in the 783 K (510 °C) tempered sample were coarser by ~65 pct, with an average diameter of 2.26 nm, relative to the other samples. In all samples, about 85 to 90 pct of the clusters have size less than 2 nm. The percentage frequency histograms for carbon content of the clusters in 768 K and 783 K (495 °C and 510 °C) tempered samples revealed that the distribution shifts toward higher carbon content when the tempering temperature is higher. It is likely that the presence of these clusters exerts considerable influence on the strength and fracture toughness of the steel.