21.11.2018 | Ausgabe 12/2018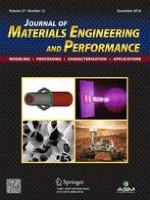 Investigation of Current Parameters and Size Effects on Mechanical Properties During Pulsed Electrically Assisted Uniaxial Tension in T2 Red Copper Sheets
Zeitschrift:
Autoren:

Saijun Zhang, Yanchun Lu, Xiaolong Gong, Zhaohui Shen
Abstract
It has been found that the electrically assisted (EA) forming can alleviate size effects due to the electroplastic effect. Size effects exist in the manufacture of tiny workpieces and severely affect material performances because the grain boundary hardening effect and strong anisotropy of the mechanical properties of the grains will lead to a strong variation in the forming properties of the sheet. In order to investigate the influences of current parameters and size effects on mechanical properties in EA forming, EA uniaxial tension tests with varying grain size and thickness were conducted on T2 red copper sheets. The small temperature rise shows the thermal effect is slight; the flow stress decreases with the increase in pulse frequency, pulse duty ratio and current density; the finer grains still result in higher strength and better plasticity; Moreover, the fluctuations of tensile strength, maximum uniform strain and fracture strain decrease with the increase in the ratio of thickness to grain size (
N
) at constant current density, which means pulsed current can weaken size effects.