07.07.2018 | Full Research Article | Ausgabe 1/2019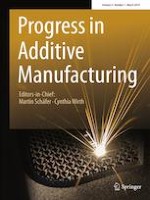 Investigation of LBM-processed bimodal powder mixtures of the nickel base alloy HX and WC–Co
Zeitschrift:
Autoren:

Christopher Schaak, Stefan Kleszczynski, Wolgang Tillmann, Gerd Witt
Wichtige Hinweise
Publisher's Note
Springer Nature remains neutral with regard to jurisdictional claims in published maps and institutional affiliations.
Abstract
Laser beam melting (LBM) is an additive manufacturing technology (AM), which enables the production of individual, complex metal parts. The development of AM-specific materials is a necessary step to exploit the full technological potential and should be a useful contribution for the ongoing process of implementing, establishing, and realizing AM processes in industrial fields of application. Theoretically, the LBM process offers the opportunity to process any weldable metal powder feedstock. Since LBM parameters affect the solidification conditions directly, this process is predestinated for future material developments. In the present paper, first research results to process the conventional LBM powder (Hastelloy X; HX) that was blended with a fine WC–Co powder are presented. Due to its high temperature and corrosion resistance, HX is widely used in industrial AM applications. WC–Co was added to improve the wear and mechanical properties. In this study, the blended, bimodal powder feedstock was analyzed, and the influence of the key process parameters on the porosity, morphology, and grain structure was investigated. The aim was to obtain the first basic information concerning the behavior of such powder blends during LBM processing and the resulting material properties. In summary, processing powder blends is possible. Since an increased porosity was determined for a high WC–Co content, the process parameters need to be further improved. In addition, it was determined that the energy input during the powder melting process directly affects the distribution of WC–Co particles within the HX matrix. High-energy inputs lead to a degradation of the WC particles. Low-energy inputs foster a consistent embedding of WC–Co particles within the HX matrix.