20.10.2015 | HTC 2015 | Ausgabe 4/2016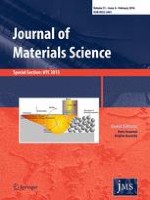 Investigation of liquid oxide interactions with refractory substrates via sessile drop method
Zeitschrift:
Autoren:

A. Tandjaoui, M. Cherif, L. Carroz, J. Sanchez, R. Reboud, C. Garnier, T. Duffar
Abstract
The wetting of refractory substrates by oxide alloys has been investigated using a high-temperature sessile drop bench. The aim of this study was to select the best crucible material for directional solidification processes such as the Bridgman, edge-defined film-fed growth or micro-pulling down methods. Contact angles and surface tension were determined via high-resolution imaging. The O
2
partial pressure in the furnace atmosphere was also measured. Alumina and a eutectic ceramic called A/YAG/Z (Al
2
O
3
/Y
3
Al
5
O
12
/ZrO
2
) were studied by investigating the following systems: alumina/molybdenum, alumina/tungsten and alumina/iridium; A/YAG/Z–molybdenum, A/YAG/Z–tungsten and A/YAG/Z–iridium. The results show intermediate wetting for both oxides (30° <
θ
<50°). This is an original result for A/YAG/Z. Several previous studies reported good wetting (7° <
θ
<20°) for alumina. Accurate surface tension values could not be obtained by image processing. Therefore, the Wilhelmy method was used, giving
γ
= 0.63 ± 0.03 N m
−1
for alumina, which is comparable to the value of 0.67 ± 0.03 N m
−1
reported in the literature. The surface tension obtained for A/YAG/Z was 0.71 N m
−1
, but this value was influenced by the approximate density used. A metal-like layer was observed on the apex of the drops after solidification. According to an SEM–EDS analysis, most of these layers were composed of molybdenum, tungsten and oxygen. Based on thermodynamic calculations, a mechanism which takes into account the oxidation of Mo parts and the dissolution of oxides in the drop is proposed.