25.05.2020 | Ausgabe 8/2020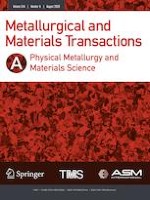 Investigation of Microwave Processing Parameters on Development of Ni-40Cr3C2 Composite Clad and Their Characterization
Zeitschrift:
Autoren:

Jonty Mago, Sandeep Bansal, Dheeraj Gupta, Vivek Jain
Wichtige Hinweise
Manuscript submitted November 4, 2019.
Publisher's Note
Springer Nature remains neutral with regard to jurisdictional claims in published maps and institutional affiliations.
Abstract
The chromium carbide (Cr
3
C
2
)-reinforced Ni-based composite clad on austenitic stainless steel (SS-316) substrate was successfully developed by the microwave cladding route after optimizing process parameters (Power: 900 Watt, Exposure Time: 380 seconds). Clads were developed at 2.45 GHz frequency in a domestic microwave oven. The developed composite clad has been examined for metallurgical and mechanical properties. The investigation was carried out by using scanning electron microscopy (SEM) equipped with a backscatter electron detector, energy dispersive spectroscopy (EDS) for elemental analysis, and X-ray diffractometry (XRD) for phase analysis and their quantification and Vicker's microhardness tester for microhardness. Clads of thickness 600
µ
m were successfully developed, which are free from visible pores and all types of cracks (interfacial or solidification cracks). The porosity analysis was carried out by using
ASTM B-276
standard, and results reveal that porosity is less than 2 pct. The average microhardness of the developed clad is observed 605 ± 80 HV
0.3
. The developed clad was three times harder than the substrate (SS-316). The various intermetallic (Ni
3
Fe, Cr
3
Si, and Ni
2
Si) and different carbides (Cr
7
C
3
, NiC, Ni
3
C, SiC, and Cr
3
Ni
2
SiC) phases were observed through XRD examination. The distribution of intermetallic and various hard carbide phases in the clad has a direct influence on hardness and increases hardness at great extent.