05.09.2017 | Ausgabe 23/2017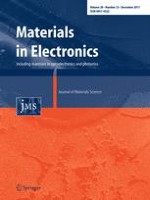 Investigation of phase structure, microstructure, and electrical properties of LaAlO3-modified alkali niobate lead-free perovskite
Autoren:

Laiming Jiang, Yueyi Li, Lixu Xie, Jiagang Wu, Qiang Chen, Dingquan Xiao, Jianguo Zhu
Abstract
LaAlO
3
as an effective additive for modification of KNN system has never been systemically discussed before. Here, (0.96−
x
)K
0.48
Na
0.52
NbO
3
–0.04Bi
0.5
Na
0.5
ZrO
3
–
x
LaAlO
3
(KNN–BNZ–
x
LA) ceramics have been synthesized by traditional solid-state sintering with a special emphasis on the influences of LaAlO
3
components on the crystallographic structure, microstructure, and electrical properties. XRD and Rietveld refinements were performed to explore the effects of LaAlO
3
on the phase evolution and the crystallographic structure, respectively, which revealed a coexistence of tetragonal and orthogonal phases. And through the results of the temperature-dependent dielectric constant (
ε
r
−
T
), we found the phase boundary shifted to low temperature slowly with the increase of LaAlO
3
components. As a resut, the samples with
x
 = 0.004 demomstrated the excellent properties of
d
33
 ~ 354 pC/N,
k
p
~ 46%,
T
C
~ 325 °C,
P
r
~ 21.8 μC/cm
2
, tan
δ
 ~ 3.9%, together with a high strain value as high as 0.18% at 50 kV cm
−1
, which are originated to the contributions of the crystallographic structure transition and dense microstructure. Additionally, it is worth noting that such a good thermal stability of piezoelectricity (e.g.,
d
33
 ≥ 303 pC/N,
T
 ≤ 300 °C) was also observed by thermal depoling method and temperature-dependent
P–E
hysteresis loops. Not only is this work itself scientifically fascinating but it also renders these materials appealing for practical applications as a candidate for lead-based ones.