02.09.2015 | Symposium: CRC799 Contribution | Ausgabe 1/2016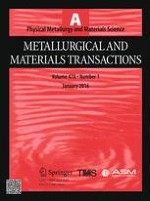 Investigation of Phase Transformations in High-Alloy Austenitic TRIP Steel Under High Pressure (up to 18 GPa) by
In Situ

Synchrotron X-ray Diffraction and Scanning Electron Microscopy
Zeitschrift:
Autoren:

Stephanie Ackermann, Stefan Martin, Marcus R. Schwarz, Christian Schimpf, Dirk Kulawinski, Christian Lathe, Sebastian Henkel, David Rafaja, Horst Biermann, Anja Weidner
Wichtige Hinweise
Manuscript submitted August 8, 2014.
Abstract
In order to clarify the difference between the deformation-induced
ε
-martensite (
ε
1
) and the pressure-induced
ε
-iron (
ε
2
), high-pressure quasi-hydrostatic experiments were performed on a low-carbon, high-alloy metastable austenitic steel.
In situ
synchrotron X-ray diffraction measurements as well as
post-mortem
investigations of the microstructure by electron backscatter diffraction were carried out to study the microstructural transformations. Three processes were observed during compression experiments: first, the formation of deformation-induced hexagonal
ε
1
-martensite, as well as small nuclei of deformation-induced
bcc
α
′-martensite (
α
1
′) within the
fcc
γ
-matrix due to non-hydrostaticity in the experiments; second, the onset of the phase transformation from the metastable
fcc
γ
-austenite into the hexagonal pressure-induced
ε
2
-iron phase occurred at around 6 GPa; third, during decompression, the hexagonal pressure-induced
ε
2
-iron transformed partially into
bcc
α
′-martensite (
α
2
′). Completely different characteristics with regard to habitus as well as to orientation relationships were observed between the pressure-induced phases (
ε
2
-iron phase and
α
2
′-martensite) and the deformation-induced martensites (
ε
1
- and
α
1
′-martensite).